Comparison of Colleges in the Past vs. Now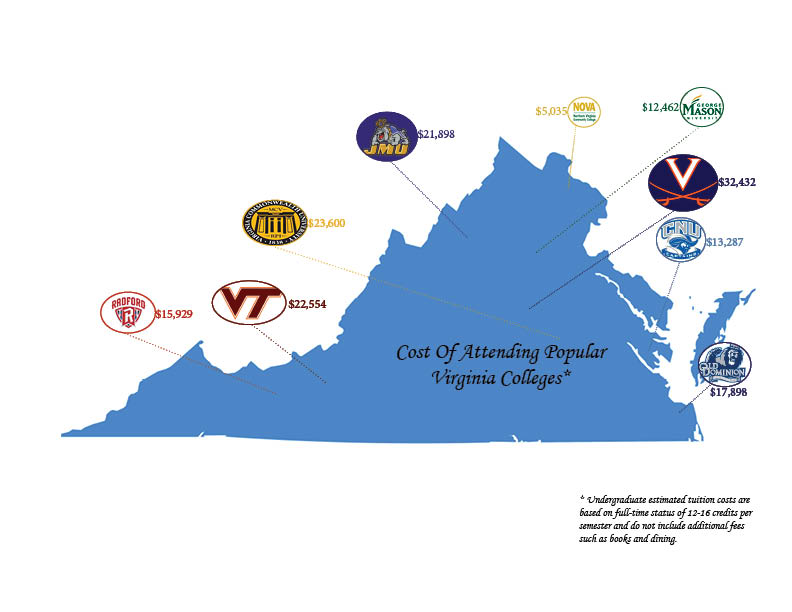 The cost of college is an important factor in almost all high schoolers. Here in VA, the average annual cost of a four year college is $15,600, making us the 16th most expensive state to go to college in the country.
In 1987, the average price of a four year college in total was $39,643. Today, the cost of a degree is around $103,616, increasing by over 161%. However there are many options for students to undertake when preparing to pay for college.
One of the most widely used options is financial aid. Financial Aid is any grant or scholarship, loan, or paid employment offered to help a student meet their college expenses. Such aid is usually provided by places such as federal and state agencies, colleges, high schools, foundations, and corporations.
Laika Tammy, James Madison University's Loudoun County regional coordinator, says that most often, in-state students have to turn to banks to receive student loans for what financial aid cannot cover. "Unfortunately, financial aid cannot cover all of the costs of attending university, so many students are forced to go the loan route if they want to continue their education" Tammy said.
With costs of college rising so drastically, some wonder whether or not getting a post high school education is even worth it. "A lot of my friends and people who have graduated that I know end up going to NOVA just because their families don't have the finances to afford a four year degree, and most students realize that having student debt right after college is not the ideal path to take"  Kavin Bapat, a Junior at Stone Bridge says. "Colleges don't realize that by increasing prices, they are driving away a new generation of students who prefer cheaper options"