2021 Recap: Last Year in a Glance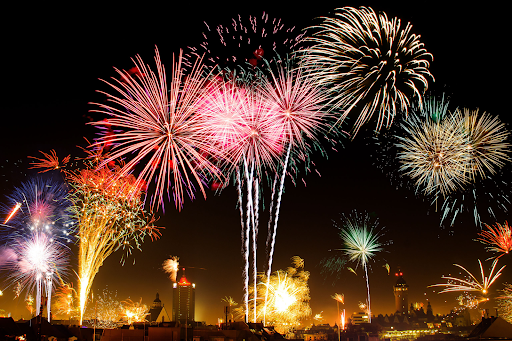 January
In a promising start to 2021, the Pfizer vaccine was cleared for teenagers 16 and up, enabling them to join the steadily-increasing number of vaccinated citizens. Prince Harry and Meghan Markle announced their official separation from the royal family, prompting a media uproar, and Joe Biden and Kamala Harris were inaugurated into the White House.
Biden's Inauguration
On Wednesday, Jan. 20, former vice president Joe Biden was inaugurated after being elected the 46th President in November. Kamala Harris became the first female and person of color to serve as a United States Vice President. The covid-safe ceremony included performances by many celebrities, including Lady Gaga, Jennifer Lopez, Garth Brooks, as well as poet and activist Amanda Gorman.
February
In February, vaccine rollouts continued and the Super Bowl occurred, and winter storms plagued Texas. The coup in Myanmar escalated, accompanying Biden's controversial decision to pull American troops out of the Middle East.
Coup in Myanmar
The morning of Feb. 1, Myanmar's military seized control of the country in a coup d'etat, following the election of Aung San Suu Kyi's party. The military demanded a recount due to accusations of voter fraud, but the election commission refused, prompting protests, hundreds of deaths, and military commander-in-chief Min Aung Hlaing taking power.
Winter Storms
Peaking in February, Winter Storm Uri raged across the United States, Canada, and Northern Mexico, specifically targeting Texas. The freezing storm destroyed power lines and heating, knocking over structures, resulting in hundreds of estimated deaths and billions of power outages across the country.
March
Marking the start of spring, Myanmar continued to struggle with destructive protests, leading to the country's deadliest day yet. The president of Tanzania passed away, and the new vaccines reached 93.6 million. The Grammys occurred, and Harry and Meghan went on Oprah to discuss their recent departure from the royal family.
The Grammys
In the 63rd annual Grammy awards, artists such as Taylor Swift, Beyonce, and Megan Thee Stallion broke records in various categories. These artists and more, including Billie Eilish, Dua Lipa, Lady Gaga, and Harry Styles won in their respective fields. Several artists, including The Weeknd, boycotted due to the evidence of some aspects of the competition being rigged and because of the Recording Academy's repeated failure to recognize artists of color.
April
In April, Tropical Cyclone Seroja took hold in southeast Indonesia, killing hundreds. Prince Phillip died at 99, and Britain mourned. Tensions in Myanmar continued, and the United States held the 93rd annual Oscars.
The Oscars
To follow up the Grammys, Los Angeles hosted the 93rd annual Oscars. 2021's winners include the movies Nomadland, Soul, Tenet, and Promising Young Woman. Individual winners included Anthony Hopkins (best actor), Frances McDormand (best actress), Daniel Kaluuya (best supporting actor), Youn Yuh-Jung (best supporting actress), and Chloe Zhao (best director). Zhao broke the record for the first woman of color to win the title, and the second woman overall.
May
In May, people aged 12-16 were officially allowed to receive Pfizer's covid vaccine. Teenage actress and singer Olivia Rodrigo's new album SOUR went viral over social media, topping charts and breaking multiple records. Naomi Osaka withdrew from Wimbledon on account of her mental health struggles, and the tensions between Palestine and Israel worsened turning nations, politicians, and the media against each other.
Palestine and Israel Conflict
Tensions between Israel and Palestine existed since the development of the countries, but they rose to a height in May of 2021 when the nations started to bomb each other. After 11 days of fighting, a ceasefire was agreed upon, but both nations claimed victory, worsening their relationship. 255 were killed, mainly from the Gaza territory.
Naomi Osaka Withdraws from Wimbledon
In May, tennis player and the world's highest-paid female athlete, Naomi Osaka made the unprecedented decision to withdraw from the French Open on account of her suffering mental health. While there was a lot of support from the media, many opposed Osaka, and the move worsened the tensions between her, the press, and many old-fashioned tennis officials.
June
At the start of summer, tensions worsened in the Middle East. Iran acquired a new president, and Kim Jong Un gained a new second in command. Britney Spears went to court in an attempt to end her 13-year-long conservatorship with her father, and the Champlain Building in Florida collapsed, killing and injuring many.
Champlain Tower Collapses
On Thursday, June 24, the Champlain Towers South condominiums near Miami Beach, Florida, partially collapsed. The cause of this is still under investigation, but experts believe it was due to a structural column caving in. The tragedy amounted to 98 deaths and even more injuries.
Britney Spears Attends Court
Britney's conservatorship with her father has been a popular point of discussion in the past decade and is the cause of the online movement "#freebritney". Spears made a rare public appearance in court and spoke about the abuse she has endured at the hands of her father.
"
At the start of summer, tensions worsened in the Middle East."
July
In the hottest month of 2021, the Summer Olympics took place in Tokyo, Japan. Simone Biles decided to pull out of all-around finals, and a hotel collapsed in China. Billie Eilish's album, Happier Than Ever, topped multiple charts, while Jeff Bezos launched into space on his rocket company's New Shepard rocket.
Simone Biles Pulls Out of the Olympics
At the height of the Olympic season, Simone Biles withdrew from an earlier competition's vault section, citing her struggle with mental health. After she made it to the women's all-around finals (accompanied by 18-year-old Sunisa Lee), Biles decided to pull out of the final and give her spot to Jade Carey, following Naomi Osaka's choice to put her health before athletics. While Biles did receive an influx of support from her team and fans, many disagreed with her decision.
August
As summer came to a close, so did the Olympics, resulting in another overall win for the United States, 2nd place for China, and 3rd place for Japan. The former governor of New York, Andrew Cuomo, resigned, and was replaced by Kathy Hochul, whose election into office made history as her becoming New York's first female governor. Hurricane Ida entered some of its deadliest days, tearing up homes in Louisiana. The tensions in the Middle East rose, and Kabul, Afghanistan, fell to the Taliban.
Cuomo Resigns
Governor Andrew M. Cuomo of New York officially resigned on August 24, due to multiple sexual harassment accusations. Replacing his position was Democrat Kathy Hochul, who became the first woman to hold that position in American history.
Hurricane Ida
Category 4 Hurricane Ida tore up areas ranging from South America to the Southern United States, resulting in 115 fatalities and 65.25 billion dollars in damages. The winds reached 150 mph, becoming one of the strongest hurricanes to strike the United States.
September
In September, Netflix's hit show Squid Game became widely popular on social media, and Apple's iPhone 13 rolled out. The struggle for women's rights continued in Taliban-controlled Afghanistan and the search for influencer Gabby Petito's murderer came to an end.
In the widely-followed case that went viral over social media, travel influencer Gabby Petito's body was found in August after being reported missing by her family who had lost contact with her. Her fiance Brian Laundrie, whom she was on a trip with at the time, had conveniently disappeared, prompting investigators and media to question his innocence. Officials found Laundrie's remains in September, all but confirming his involvement in the murder and closing the case for good.
Women's Rights in Taliban-controlled Afghanistan
In August, the Taliban officially took over Kabul, Afghanistan, implementing their radical control over the nation. Despite their promise to respect women's rights, they abolished the Women's Affairs Ministry in Kabul and began to divide the country by sex. This was seen the last time the Taliban was in power, a time when they even went as far as to ban most girls from pursuing an education. It became dangerous for women to even leave the house, so the citizens started to protest, and were supported by millions around the world.
October
In October, a whistleblower came out against Facebook saying the social media platform was dangerous, adding even more controversy to the internet. Former Las Vegas Raiders head coach Jon Gruden and several other NFL executives were fired due to thousands of their inappropriate and offensive emails being released to the public. The Sudanese military seized power in a coup d'etat and North Korea opened up communications with South Korea.
Frances Haugen, the former project manager of Facebook, released hundreds of sensitive documents that supported recent claims of corruption in Mark Zuckerberg's internet empire. People started to speak out against Facebook's hand in destroying teens' mental health and spreading false information, putting the company under mass scrutiny.
The Sudanese Military Stages a Coup
Sudan had been disoriented since the military staged a coup, taking control of the already-unstable government. The unwelcome change prompted deadly protests starting Oct. 25 and 26, resulting in hundreds of injuries and at least 10 civilians dead.
November
As fall began its transition to winter, vaccines were released for children 5-11, once again expanding the vaccinated population. The SpaceX Mission Crew-3 was launched, the US-Mexico land border reopened, and the Omicron variant of covid continued to spread rapidly. Britney Spears' conservatorship with her father officially ended after a decade-long battle, and 7 people died in Travis Scott's Astroworld Festival.
Originating from southern Africa, the Omicron variant began to spread and is predicted to soon outcompete the Delta variant. While the many details about the new variant remain unknown, the World Health Organization categorized the covid variant as "of concern". The new strain is now worth 73% of all covid cases, increasing the pandemic's danger.
Tragedy at Astroworld
November 5, Travis Scott's Astroworld Festival took a deadly turn. Due to an unexpected crowd surge, 10 people were killed and dozens more were hospitalized, damaging the community and reputation of Scott, who said he wasn't fully aware of what had happened during the show.
December
As the end of an eventful year approached, booster shots for covid-19 were in the process of distribution. Countless flights were canceled due to the unexpected surge of covid's Omicron variant, and a deadly tornado swept the United States. Former leader of Myanmar Aung San Suu Kyi was sentenced to two years in prison for inciting public unrest, Elon Musk, CEO of SpaceX and Tesla, was named Time's Person of the Year, and Olaf Scholz replaced Angela Merkel as the new Chancellor of Germany.
Tornado Outbreak
From Dec. 10-11, a tornado outbreak in the Central, Southern, and Midwestern regions of the United States caused mass devastation, becoming the deadliest late-season tornado outbreak on record in December. The outbreak produced 69 confirmed tornadoes and resulted in 90 confirmed deaths, becoming one of the most destructive storms to occur in the past decade.