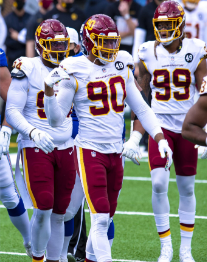 No matter how hard Washington Commanders fans may try to bury their faces in pumpkin spice lattes or Halloween candy each fall, they are continually met with disappointment over their team's lack of success. Though many fans were hoping to break the cycle this season, no serious changes occurred, even under new ownership. 
Yes, this fall seems to be the same as all others for Commanders fans. After the team's trade on Oct. 31, that many believe could be detrimental to the team's future success. The Commanders earned a high second-round pick from the Chicago Bears for defensive lineman Montez Sweat and a third-round pick from the San Francisco 49ers for defensive lineman Chase Young, both players being major contributors to most of the glimmers of success the Commanders have found this year. 
"I definitely think that in this type of season it's [the trade] in the commander's favor because they are in the middle of the road," senior Jo Bognar said. "If they can get good young defenders and offensive pieces in there then this can work in their favor." 
There are some positives that come from these trades; with gaining these two draft picks, the Washington Commanders have three draft picks in the top 50 and five in the top 100 for 2024. The team backed their decision by claiming that this trade will open up more opportunities for other players on the team, and that these draft picks will allow them to gain new talents. 
"It's an opportunity to see what else we have." Commanders head coach Ron Rivera said in an interview with ESPN. "It's an opportunity to go out and win football games using different guys."
It's an opportunity to see what else we have. It's an opportunity to go out and win football games using different guys.
— Ron Rivera
Another factor contributing to the trades was the fact that both players were to become free agents after this season. For Young, Washington declined to pick up his fifth-year in the offseason. There were remaining concerns about Young's injury to his right knee in 2021 when he tore his ACL and ruptured his patellar tendon. Yet throughout 34 games over four seasons with the Commanders, Young had 14 sacks, 90 tackles and six forced fumbles. 
The situation of new picks in the draft and pending free agents could allow the team to recover the now-struggling defensive line as well as recruit young talent to help exciting second-year quarterback Sam Howell play at his highest potential. Howell is the first quarterback in franchise history to surpass 2,500 yards in only 10 games, making him seem promising for the future of the Washington Commanders. 
"I know this franchise has been looking for quite some time [for a quarterback] and for the first time in a while, I think that that guy might be here," Rivara said.