Reese and Clark Battle in NCAA Tournament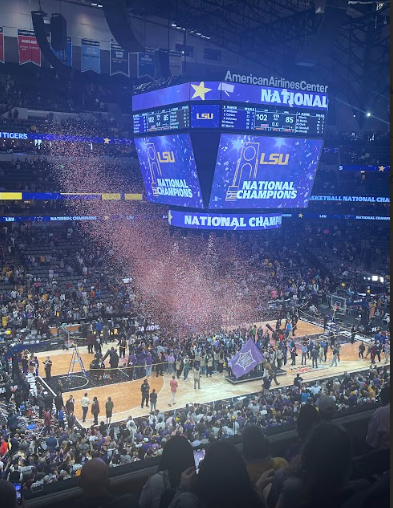 For the first time in LSU history, the Tigers won the NCAA Women's Basketball Championship, defeating the Iowa Hawkeyes on Sunday, April 2. In the time since the game, popular media outlets have stirred up a rivalry between the teams' star players: Angel Reese (LSU) and Caitlin Clark (Iowa). 
In the final minute of the championship game, Reese turned to Clark and waved her hand with the "You Can't See Me" wave before pointing at her ring finger, insinuating that Reese had just won the championship. The gestures went viral, and Reese was greatly criticized by the press for her actions.
"Caitlin Clark is a hell of a player for sure, but I don't take disrespect lightly," Reese said in a postgame interview. 
Clark first made the same gestures in her game against Louisville in the Elite Eight. Clark, however, claimed she didn't notice the trash talk coming from Reese when the sign was made during the game. 
"I was just trying to spend the last few moments on the court with especially the five people that I've started 93 games with, and relishing every second of that," Clark said in an interview.
Clark did not take the interaction personally and instead rationalized the on-court actions.
"I don't think Angel should be criticized at all," Clark said in an ESPN interview. "I'm just one that competes, and she competed. I think everybody knew there was going to be a little trash talk in the entire tournament. It's not just me and Angel." 
Reese cleared the air as well, saying that the two had no issue with one another.  
"
I think everybody knew there was going to be a little trash talk in the entire tournament. It's not just me and Angel.
— Caitlin Clark
"We played against each other for so long, and she's a great player. I love playing against Caitlin, and I feel like me and her are the face of women's basketball at the college level, right now." Reese said in an interview. "So, just being able to have that and her come out and say that was great for us."
This year's championship was the most watched Women's championship of all time, pushing the video of the interaction across all social media platforms.
"I think the viewership of the women's final four was really big this year because of how big Angel Reese and Caitin Clark are," Girls Basketball Coach Emily Thompson said.
With all the media coverage, viewers have formed their own opinions on what was seen on the court. 
"I respect both players," Thompson said. "But, Angel Reese […] did it for a little too long in my opinion. Competitive trash talk isn't terrible; it just shows the competitiveness between them."