A Change in Command: Update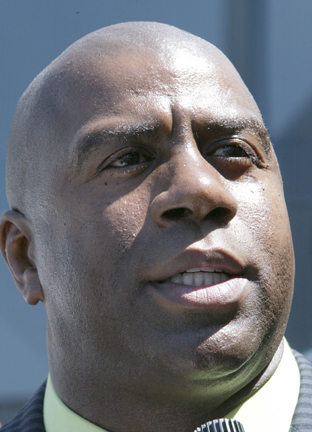 NBA Hall of Famer Earvin "Magic" Johnson and Canadian billionaire Steve Apostolopoulos have entered a bid for the purchase of the Washington Commanders alongside the NBA's Philadelphia 76ers owner Josh Harris, according to the Washington Post and CBS Sports.
The sale of the Commanders has continued to garner the attention of many as the state of the team, for more than just financial reasons, has been in question.
"Prospective owners have been touring the Commanders' facilities, and a sales agreement is expected to be reached soon," Daniel Kaplan at The Athletic said.
Johnson is currently a partial owner of the MLB's Los Angeles Dodgers and the WNBA's Los Angeles Sparks. In the past, Johnson has teamed up with Harris to purchase the NFL's Denver Broncos, but they were unsuccessful.
The current owner of Washington Commanders, Dan Snyder, announced the team was up for sale in November 2022 while allegations of workplace misconduct and financial impropriety circulated. Before the announcement of the planned $7 billion sale, the league considered removing Snyder due to the allegations, which may still affect the pending sale.
"Also outstanding [allegations] are various investigations into the team and Snyder, including the league's own probe into an allegation that Snyder improperly made physical advances on a team employee and financial charges that the team hid revenue from other clubs," Kaplan said.
Since then, multiple high-profile contenders have expressed interest in buying the team, including Amazon founder Jeff Bezoz, rapper Jay-Z, and actor Matthew Mcconaghey. However, 76ers owner Josh Harris currently leads a group of investors bidding on the Commanders, which includes American billionaire Mitchell Rales and, now, Johnson and Apostolopoulos. 
"
[…] a sales agreement is expected to be reached soon.
— Daniel Kaplan
"The addition of Rales, whose net worth Forbes estimates at $5.6 billion, strengthens the group's bid in multiple ways as Snyder considers a possible sale," Liz Clarke said in a Washington Post article.
It is possible the sale could finally reach a close at the NFL's annual league meeting that will take place from March 26-29, but it is more likely that the sale will be finalized in another meeting in May, according to The Athletic.
About the Contributor
Scarlett Kelly, Staff Writer
Scarlett is currently a junior. This is her second year with the "Bulldog Tribune". She enjoys listening to music, some of her favorite artists are The...