FIFA World Cup Brings 2022 to an End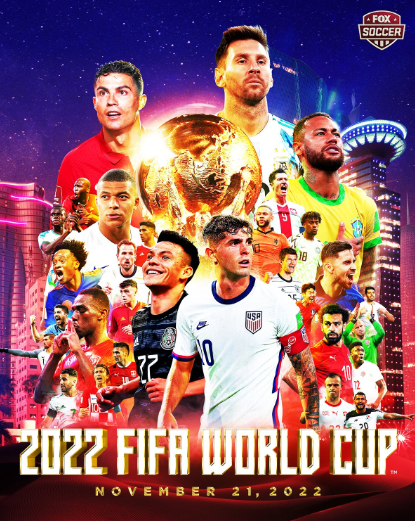 After leaving soccer fans waiting for four years, the World Cup kicked off in Qatar on Nov. 20 for multiple weeks of intense competition and shocking upsets.
16 teams remained after battling against other countries during the group qualifying rounds. France, who is a part of the few teams that advanced, is looking to potentially win back-to-back cups and become the third team to ever do so.
"This is the competition of my dreams, and I'm delighted to be here," French forward Kylian Mbappé said to FOX Sports. "I've been preparing for this tournament all throughout the season, physically and mentally. I wanted to be ready for the tournament and I am, and so far things are going well."
The United States had no choice but to watch the 2018 World Cup from home as they failed to qualify for the first time in three decades. However, with new and young players joining the team, they were able to advance to the sweet sixteen after two ties and a one-point win in their group matches. While they soon fell to Netherlands 1-3, this comeback run was one that should be appreciated by both players and fans.
"I thought it was [a pretty successful run] considering it's been eight years since the team last played in the World Cup," junior Alisha Gupta said. "Obviously it was disappointing that they lost to Netherlands, but I think it was still pretty successful because I didn't expect them to go as far as they did."
After a historic career, Lionel Messi, one of the world's most famous footballers, is playing in his last World Cup where he's looking to win his first trophy for Argentina. Cristiano Ronaldo, another celebrated footballer, was hoping to win his first trophy in his own last tournament, until Portugal was sent home after a 0-1 loss to Morocco.
"To win a World Cup for Portugal was the biggest and most ambitious dream of my career," Ronaldo said in an Instagram post. "I fought a lot for that dream. In the 5 times I was present in World Cups throughout 16 years, always next to great players and supported by millions of Portuguese, I gave it my all. I left everything on the field. I never faced away from the fight and I never gave up on that dream."
The World Cup has been nothing short of a rollercoaster with the many upsets it has presented to fans. Uruguay failed to qualify despite their 2-0 win over Ghana while Brazil fell to Croatia in penalties in the quarterfinals. Morocco also defeated Spain in the quarterfinals, where they'd soon become the first African team to reach the semifinals.
"When me and my brother were making our predictions for how this World Cup would go, we guessed that Brazil would make it all the way to the finals," junior Nirmi Chakraborty said. "Seeing them lose not in the semifinals but the quarterfinals was something that I was not ready for."
"
I left everything on the field. I never faced away from the fight and I never gave up on that dream."
— Cristiano Ronaldo
The games finally came to an end as Argentina and France faced off in the finals on Dec. 18.
"I think that it's really nice to see that regardless of race, ethnicity, interest, everyone comes together to support the team that they love and care about," Chakraborty said. "There's just something so beautiful about that [and] it's not just the World Cup, all of these sports can bring people together."