Kyrie Irving Faces Suspension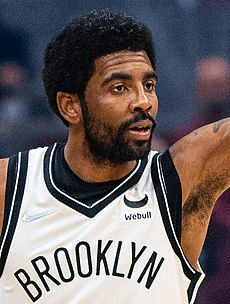 Brooklyn Nets star Kyrie Irving is facing suspension and other consequences after reposting an antisemitic film on social media.
On Oct. 27, Irving posted a link on Twitter to a film that contains various forms of hate speech against the Jewish community. The tweet has since been deleted, but the effects of the post have harmed many.
"Hate speech of any kind is unacceptable and runs counter to the NBA's values of equality, inclusion and respect," the NBA said in a statement. "We believe we all have a role to play in ensuring such words or ideas, including antisemitic ones, are challenged and refuted and we will continue working with all members of the NBA community to ensure that everyone understands the impact of their words and actions."
The NBA officially suspended Irving for five games on Nov. 3, about a week after he first shared the film. However, he still won't be able to return to the court until he fulfills six requirements the Nets have given him, one of which being an apology. Irving refused to condemn the post for weeks until finally posting an apology on Instagram the day after his suspension was announced.
"This is an encouraging step from [Kyrie Irving], but actions speak louder than words," CEO of the Anti-Defamation League, Jonathan Greenblatt tweeted. "Because of his post and previous refusals to walk it back, the [antisemitic] film/book is now a best seller in multiple categories on [Amazon]. There is a lot more to do to undo this damage."
Nike withdrew their partnership with Irving the day after he was suspended, resulting in a recall for all of his shoes, including the Kyrie 8, which was scheduled to launch on Nov. 8. Irving's contract was expected to expire with no return after the 2022-2023 season, however, no one could have anticipated it ending as abruptly as it did.
"At Nike, we believe there is no place for hate speech and we condemn any form of antisemitism," a Nike spokesperson said. "To that end, we've made the decision to suspend our relationship with Kyrie Irving effective immediately and will no longer launch the Kyrie 8. We are deeply saddened and disappointed by the situation and its impact on everyone."
While Irving is facing his own consequences, some are urging that Amazon owner, Jeff Bezos, take some accountability as well. The film is still up for purchase on the Amazon website while there has been no comment made from the company about why it's still available. The American Jewish Committee (AJC) has since started a petition to get the film removed.
"Amazon has a critical role to play in ensuring Americans do not consume hate-filled propaganda and misinformation," the AJC said in their petition.
"
Because of his post and previous refusals to walk it back, the [antisemitic] film/book is now a best seller in multiple categories on [Amazon]. There is a lot more to do to undo this damage."
— Jonathan Greenblatt
Some have started to show their support for Irving following his recent actions Retired NFL players Cole Beasley and Ed Reed came forward to voice their support following Irving's suspension, as well as NBA star LeBron James, who originally criticized Irving and his post.
"I told you guys that I don't believe in sharing hurtful information," James tweeted. "And I'll continue to be that way, but Kyrie apologized and he should be able to play. That's what I think. It's that simple. Help him learn- but he should be playing."
While Irving has made it past his five game suspension, it's uncertain when or if he will return as he still has multiple requirements to satisfy. Until these tasks are completed and the Nets, as well as the league, believe that Irving is ready to play, he will remain sidelined.
"I was not put here on earth to participate in any religious/political wars or incite racial disharmony/prejudice within communities," Irving tweeted the day his suspension was supposed to end. "We are all equal under the sun and I am here to participate in the building of an Equal world and follow the Word from the Most High/GOD/YAH."