Girls Tennis Snapshot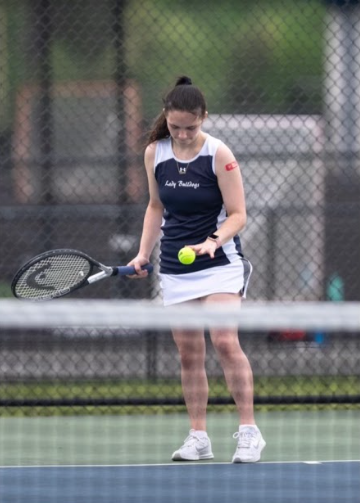 The girls tennis team started its season back in March, and since then, they have only lost a few matches. Throughout the years, the tennis team's biggest competitor has been Rock Ridge 
High School, so the girls are working toward accomplishing their sought after feat of winning against a challenging school.
Rock Ridge has a strong team from the top down; there are strong players all the way through their bottom six athletes. However, before taking on the Phoenix, the team is excited to play a variety of other teams during the rest of the season as well. 
"I am really looking forward to playing Woodgrove because the girls on the team were super welcoming, and the levels between the rankings [of the people on the team] were accurate," sophomore Hannah Mansuri said. "Plus, their courts are super pretty there."
Mansuri not only has goals for succeeding as a team by winning matches, but she really looks forward to connecting as a team throughout the rest of the season. 
"I hope that by the end of the season the team will be super bonded, and we will win the rest of our games as a team," Mansuri said.
Being a member of the tennis team has also impacted sophomore Destini Coger, who is elated to be a returning member of the group. 
"My hopes are to have fun and [use] tennis as a stress reliever for me [like] in the past," Coger said. "I am looking forward to [playing] all of [the teams and I hope] to get into the top 6 [this season]." 
Senior Elena Young, who is a returning captain of the team, also sets out to accomplish goals during the postseason and is excited to play a couple in-district teams. 
"I am looking forward to playing Independence and Riverside," Young said. "My hopes for the rest of the season are that we all have fun and make it to districts!"
But the season is more than an overall record. The tennis team values the memories that they have created and the experiences they built over this and previous seasons.
"My favorite memory in Stone Bridge tennis so far has been playing when the sun is setting," Young said. "We all notice and admire it. I love the stretching circle because we are all really goofy. [I love] playing king of the court against our coaches."
"
I am really looking forward to the senior night game because it's a once in a lifetime thing. I get [to] experience it with my co-captain who's been on the team with me since freshman year!
— Elena Young
With her last year winding to an end, Young is excited to celebrate her regular season career with her close friends and family.
"I am really looking forward to the senior night game because it's a once in a lifetime thing," Young said. "I get [to] experience it with my co-captain who's been on the team with me since freshman year!"