Antonio Brown's Career of Controversy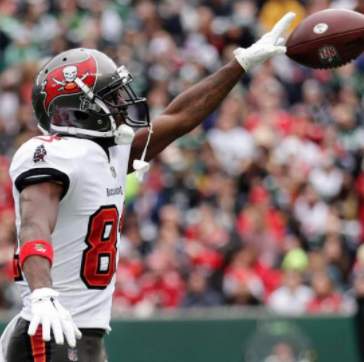 The recent breakdown of football phenomenon Antonio Brown, a temperamental, former NFL wide receiver with a past of controversial actions, finally crossed the line, forcing him to bid his 12-year-long career goodbye. But in the light of these events, we have to ask ourselves: how much of his destructive behavior deserves our sympathy? 
Despite his obvious talent, 7-time-Pro-Bowler Antonio Brown's downward spiral was spectacular, to say the least. The athlete has been involved in innumerable scandals over his decade-long career, including throwing furniture out a window and almost hitting a child; having an 8 game suspension because of his role in burglary and accusations of sexual assault; obtaining a fake covid vaccination card, resulting in a suspension for three games; skipping practices; and threatening to punch general manager, Mike Mayock, before being released from his previous team, the Las Vegas Raiders, without playing a single game. 
"I make mistakes." Brown said in a statement he released on social media. "I'm working on myself and I have positive influences around me. But one thing I don't do is shy away from playing hard on the field. No one can accuse me of not giving it my all every play."
Brown's constant controversies, suspensions, and releases finally peaked on Jan. 2, in the Buccaneers-Jets game. During the third quarter, when his team was down 24-10, Brown stopped, removed his shoulder pads and jersey, and simply walked off the field, throwing his uniform into the crowd with a grass-stained grand finale. Teammates and coaches tried to stop Brown, but his mind was made up; he was absent for the remainder of the game, despite the Bucs' 28-24 comeback victory. 
"We called for the personnel group that he had played in the entire game, and he refused to go into the game," Bruce Arians, the Buccaneers' head coach, said in an interview. "That's when I looked back and saw him basically wave off the coach. I then went back and approached him about what was going on. 'I ain't playing.' 'What's going on?' 'I ain't getting the ball.' That's when I said, 'You're done.'"
Arians' perspective on the situation directly contradicted what Brown said in his statement, where Brown described the details of what happened in his point of view. According to the athlete, he alerted the coaches of his pain, and they passed it off, forcing him to take an extremely strong painkiller instead. Brown explained how he played in the game until the pain became too extreme, sidelining the athlete until he was screamed at even after informing his coach he was hurt. 
"I took a seat on the sideline and my coach came up to me, very upset, and shouted, 'What's wrong with you? What's wrong with you?' Brown explained in his statement. "He ordered me to get on the field… he didn't call for medical attention."
As proof of his side of the altercation, Brown released screenshots of his messages with Arias about whether or not he should play before the game. Furthermore, his lawyer released a statement on Twitter that supported Brown's previous statement about the severity and realness of his injury and labelled spectators' opinions about what really happened as "false rumors". The lawyer cited an MRI of his ankle and directed the blame away from Brown and onto the NFL for making him play against his ability. 
"Antonio Brown never faked an injury in his life." Sean Burystan, Brown's lawyer, said. "It is incredible that people are pushing false rumors that what happened Sunday was the result of mental health issues and not a well known ankle injury. Mental health is important, but so is basic dignity. Why would they embark on a campaign of false concealment? To avoid responsibility for ignoring the risk of serious injury for the sake of winning a game."
"
Talented players get multiple opportunities to succeed professionally; the league gets involved only as much as it needs to protect its image. "
— Jemele Hill, from the Atlantic
I truly believe Antonio Brown was in pain, but the question lies less in the legitimacy of his injury, and more why he acted the way he did– something we've been asking ourselves frequently throughout his career. 
The gravity of Brown's troubled past goes beyond just petty controversies. The athlete has multiple sexual assault allegations against him that were never outwardly acknowledged by the NFL and were never properly held accountable. Yet, this is not at all surprising, considering how many times the league has been criticized for their silence on this exact subject. 
"NFL teams and the league office definitely have a consistent way of addressing violence against women," Jemele Hill, from the Atlantic, writes. "Talented players get multiple opportunities to succeed professionally; the league gets involved only as much as it needs to protect its image."
Brown has had his fair share of opportunities; while he unquestionably made mistakes that he needs to be held accountable for, we also need to recognize the NFL's role in handling Brown's most recent outburst. 
It is no secret that the league has a history of corruption. Even late last year, dozens of executives and coaches were exposed for a network of inappropriate and offensive emails, and the league hadn't done anything about it until it blew up, making them look bad. It just goes to show that the NFL can look past countless harassment allegations and corrupt behavior, not only by Brown, but by many other coaches, executives, and players; but directly after something starts to harm league reputation, they address it immediately. Brown and his lawyer claimed that he informed them about his injury and they remained ignorant, to the shock of little. Too much has come out about the league's inability to take accountability for the right things to not question the league's innocence in the matter. 
"We all know that the NFL does not condone the ordering of players in pain or at risk of serious injury to play," his lawyer said. "Moreover, the injury and location of the visible bone fragment prevented Antonio Brown from being able to make the type of football moves that he is famous for."
It's Brown's word against the NFL's. Who is to trust? No other player has been through this many controversies during their time in the league. The reason for his behavior could be because he had pre-existing mental health issues, or because of his injury in 2016, when he had a severe head-to-head collision that may have caused an undisclosed brain injury, or, honestly, he could just be a major egotist acting on his impulses. The point is, we don't know what he's been through, so maybe we should find it in ourselves to give him a break for this specific event, following the example quarterback Tom Brady set during an interview defending him. 
"I think everyone should be very compassionate and empathetic with some difficult things that are happening," Brady said. "Everyone should do what they can to help him in ways that he really needs. We all love him. We care about him deeply. We want to see him be at his best."
Still, less focus should be placed on Brown's most recent outburst, as this self-destructive behavior is not as problematic as his treatment of others. Even if he wasn't completely at fault for this specific situation, we can't forget he has many other accusations with more severe consequences, and we can't neglect the NFL's poor handling of Brown's inappropriate behavior. 
It's a shame that a once Hall-of-Fame-bound player had such an upsetting decline. While it may be time for the former athlete's career to end, he has been given multiple chances to redeem himself for his problematic behavior. As fans, the best we can do is walk the line between supporting Brown through his recovery and hold him, and everyone else in the league, accountable for the things that actually matter.