Fox, Carlson Part Ways
Conservative spearhead Tucker Carlson's last broadcast was Friday, April 23. The former Fox News host was reportedly let go in a "mutual decision" for using foul language to describe a female executive, ending in a lawsuit that brought his clear disrespect towards coworkers into light. 
Tying into his leave, as well, was Dominion Voting Systems suing Fox News for defamation as a result of Carlson's on-air actions, forcing the company to pay $787.5 million for his comments about "election fraud". Even after Fox decided that he was not worth millions of dollars in legal fees, Carlson seems to be taking to his leave without much indignation. 
"Retirement is going great so far," Carlson said to The Daily Mail. "I haven't eaten dinner with my wife on a weeknight in seven years."
Carlson continues to criticize his former competition with as much fervor and self-assurance as he had prior to his career's sharp left turn. The former Fox host may have lost his job, but by no means has he lost his confidence.
"The other thing you notice when you take a little time off is how unbelievably stupid most of the debates you see on television are," Carlson said in a Twitter video. "They're completely irrelevant. They mean nothing. In five years we won't even remember we heard them. Trust me, as somebody who participated."
When news broke out about his departure–reportedly only ten minutes after the anchor was informed himself–pure shock swept the public, as the seemingly untouchable frontman for the Trumpist movement was ousted by his own platform.
Despite the sigh of relief amongst many Americans, Carlson's ardent followers are infuriated about the "betrayal" of Fox News.
 "That's one of the few voices in the Republican Party that would call out the nonsense from GOP senators, governors and otherwise," Donald Trump Jr. said on "The Charlie Kirk Show". "You know, an actual thought leader in conservatism." 
"
It's about time. Carlson has been spreading lies and disinformation on Fox News for years, much to the delight of viewers who would rather have their beliefs confirmed than be presented with the truth.
— Bill GoodyKoontz
Carlson is rarely one to concede to another's views, which may have been his downfall. Tiptoeing on the verge of impropriety for the last six years, countless remarks about a "fraudulent" election, immigration, and white supremacist ideals likely pushed Carlson over the brink. Yet the American public is not exactly drowning in surprise, with many calling out the patterns of how Fox News has presented itself in the past. 
"Fox News knew exactly who Tucker Carlson was when they handed him a primetime show in 2016 – and they saw his misogyny and white supremacy as an asset, at least until they faced legal liability," spokesperson for the New York City mayor Amy Spitalnick told the Guardian in an email. 
The anchor's release from the leading Republican news agency has led America into yet another divide on what this situation means for the future of political parties and support for Trump in the 2024 election. 
"Where can you still find Americans saying true things?" Carlson said. "There aren't many places left but there are some and that's enough. As long as you can hear the words, there is hope. See you soon."
About the Contributor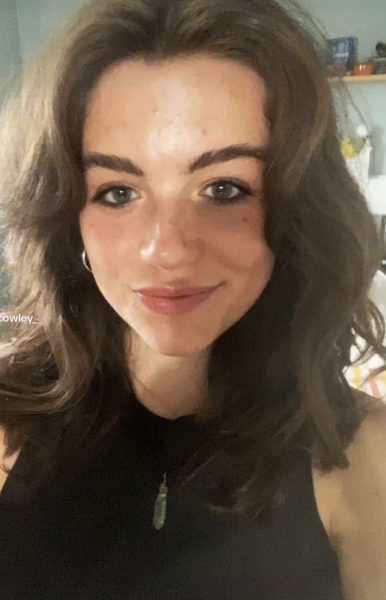 Addy Cowley, Editor-in-Chief
Addy Cowley is a senior and the "Bulldog Tribune"'s EIC, the president for Cards4Cause, and the secretary of Key Club. She grew up in four countries,...