The Willow Project: What You Need to Know
The Biden administration green-lighted the plans of Houston-based energy company, ConocoPhillips, on March 3. Originally proposed in 2020, the proposal, known as the Willow Project, is a decades-long Alaskan oil drilling project intended to boost the state's economy that, since its conception, has been met with hostility over its environmental impact.
The Department of the Interior has substantial concerns for how the Willow Project could harm the climate, wildlife, and people.  The project has also received  backlash from indigenous Alaskan tribes that will be affected by the plans.
The Willow Project is especially open to public intervention due to the location of the drill site being on federal grounds.
"This is a huge climate threat and inconsistent with this administration's promises to take on the climate crisis," an Alaska-based senior attorney at environmental law group Earthjustice, Jeremy Lieb said to CNN.
The environmental law group, Earthjustice, has already filled a lawsuit the Biden administration for admitting the project. 
"We and our clients don't see any acceptable version of this project, we think the [environmental impact] analysis is unlawful," Lieb said to CNN.
In addition to legislative action taken by Earthjustice, there have been thousands of uprisings on social media under the trending hashtag "#stopwillow." A petition on "Change.org" titled "SAY NO TO THE WILLOW PROJECT!" has received over 5 million signatures, raising significant amounts of attention to the project. Biden's action has been galvanized on TikTok especially, with the hashtag receiving almost 400 million views. 
"
This is a huge climate threat and inconsistent with this administration's promises to take on the climate crisis.
— Jeremy Lieb
"This is the entire internet advocating against Willow; [President Joe Biden's] voter base, that trusted him to act on climate," said activist Elise Joshi on TikTok.
Environmentalists are encouraging people everywhere to take a stand for the planet and against future drilling.
"Now we have to step up and fight for these priceless wild places and the people and animals that depend on them," Senior Attorney at the Center for Biological Diversity Kristen Monsell said in a statement released by Earthjustice.
About the Contributor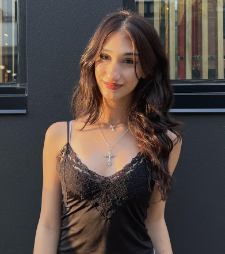 Emma Goodfriend, Staff Writer
Emma Goodfriend is a junior and a returning member of the "Bulldog Tribune". She has played soccer for 11 years, two of which were for Stone Bridge. Emma...