African Activists Speak Up at COP27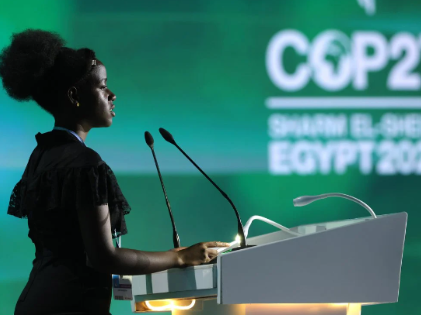 African youth activists attended the 2022 United Nations Climate Conference, or COP27, this past week to raise awareness of the disastrous effects climate change has on African nations and to call for the financing of loss and damages. 
This year's climate summit was held from Nov. 6 to Nov. 18 in Sharm el-Sheikh, Egypt, which is located in northeastern Africa. The conference was continually marketed as the "African COP" and activists hoped it would live up to that statement. 
One focus of the activists was loss and damages: the harm climate change has on developing countries that contribute very few carbon emissions. 
Outside of the summit, climate campaigner Bhekumuzi Bhebe protested against what he took as an attempt by rich nations to bribe Africa into investing in fossil fuels–an act that fueled his incense towards what he saw as western countries continually taking advantage of Africa.
Beside a poster stating "Don't Gas Africa",  Bhebe yelled, "Is this justice?" where his fellow protesters then responded with "No!", CNN's Ivana Kottosová wrote. 
Inside the walls of COP27, 17-year-old climate activist Leah Namugerwa of Uganda delivered a powerful opening speech to world leaders, one that challenged them to face the true injustice of youth inheriting a world ruined by climate change and to take real measures against it. 
 "If COP27 is to truly deliver, we must face some real truths," Namugerwa said. "Let the African COP be an action COP. Politicians: When you stand up to talk, my generation requests that you speak like there is an emergency."
On the Children's Climate Risk index, in which countries are ranked based on how vulnerable the children are to extreme weather and environmental stressors, children in African countries such as Nigeria, Chad, Guinea, and the Central African Republic, were found to be the most at risk. 
Furthermore, countries like Uganda have experienced harsher droughts and fluctuating rainfall, two patterns that are expected to further intensify due to the continued warming of the region, which has already risen by 1.3 degrees Celcius.
"And yet these countries are among those least responsible for creating the problem, with the 33 extremely high-risk countries collectively emitting just 9 per cent of global CO2 emissions," UNICEF reported. "We cannot allow this injustice to continue. It is immoral that the countries that have done the least are suffering first and worst."
In the months leading up to the 2022 United Nations Conference, calls for the financing of loss and damages, referring to the need for funds given to countries who are negatively affected by climate change while contributing very little to it, intensified.
"I am here [at COP27] to let everyone know it's about time that countries meet their climate commitments," Egypt's Salmah Salah said. "For example, the $100 billion promised by wealthy nations more than a decade ago to help poor countries in adaptation and mitigation has still not been delivered."
"
If COP27 is to truly deliver, we must face some real truths."
— Leah Namugerwa
Even as COP27 comes to an end, African activists' resounding call for action by wealthy nations still remains: take tangible measures against climate change or vulnerable nations will continue to pay the unjust price. 
"Now is the time for action and implementation," Egyptian president Abdel Fattah El Sisi said in his speech at the COP27 opening session. "There is no room to retreat or use challenges as pretexts to justify that. Missing the opportunity means squandering the legacy of future generations; our children and grandchildren."