"Squid Game" Makes History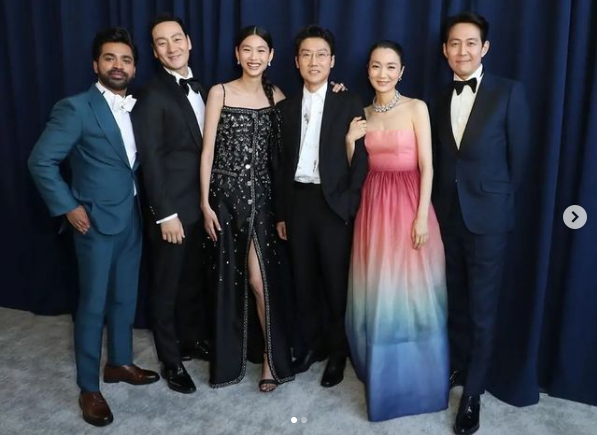 On Sunday, Feb 27, Squid Game became the first Korean series to receive an award at the Screen Actors Guild Awards Ceremony. 
The show took home three awards in total, Lee Jung-jae and Jung Ho-yeon prevailing in their respective drama actor categories while the stunt team received an award for their outstanding action performance.
"Thank you so much. This is truly huge…Thank you so much SAG Awards. And thank you to the global audience," Jung-jae said. 
Squid Game is reportedly the highest viewed Netflix series of all-time, even inspiring an abundance of Halloween costumes across the globe. 
"Squid Game pulled in a staggering 1.65 billion hours of viewing 28 days after its Sept. 17 premiere," Variety said. 
After becoming the highest viewed Netflix show and the first non-English-language series to be nominated for a SAG award, Squid Game furthered its list of achievements.
"The record-breaking show serves as both the first foreign-language series and first Korean series to earn a nod from the annual award show," ENews said. 
Worldwide fans were thrilled to witness the cast and crew be recognized for the effort and time which went into the creation of Squid Game. 
"
There's been so much pressure, so much demand, and so much love for a second season, I will say there will indeed be a second season. It's in my head right now."
— Hwang Dong-hyuk
"Watching this made me cry. Ho-yeon deserved that award so much," Twitter user Jeoncfe said. "Squid Game was her first acting gig yet it went beyond viral."
Being the first nominated and awarded non-English-language, as well as Korean, series in SAG Awards history, fans everywhere have been curious about a second season."There's been so much pressure, so much demand, and so much love for a second season," Director Hwang Dong-hyuk said. "I will say there will indeed be a second season. It's in my head right now."