Twitch Streamer Battle
2022 has already unleashed another controversy on Twitch, this time involving famous gaming streamers Ninja and Pokimane. What began as a break of Twitch Terms of Service (TOS) soon escalated into a legal battle between the two popular streamers. 
However, this story actually began with a YouTube streamer. "JiDon" Adams, a famous gamer who led a "hate raid" into Pokimane's stream. A hate raid begins when a streamer instructs his or her viewers to harass or hate on another streamer. This conduct violated Twitch's TOS, and sent the gaming community into a frenzy of swearing and misogynistic and derogatory comments to Pokimane. 
After hordes of JiDon followers harassed Pokimane, a few went onto Ninja's stream and informed him of the situation. Ninja then responded by sending his own army of followers to 'troll' Pokimane. 
The collective trolls spammed the phrase, "L + ratio," meaning that a social media comment (in this case, the streamer Pokimane) has more replies than actual likes. In other social media platforms, this phrase implies that the 'comment' is divisive or controversial. This resulted in Pokimane abruptly ending her 12 hour Valorant stream. 
"I'm tired of people minimizing the harassment I've received over the last week to 'just L+ratio spam,"  Pokimane said. "I'll put up with the [expletive], but I don't want you guys to put up with the [expletive]."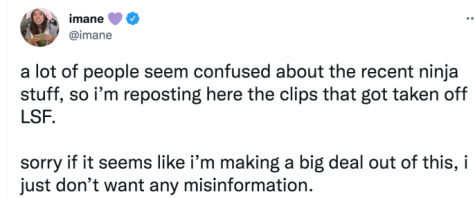 As a result of instigating hate and violating Twitch TOS, JiDon was banned from Twitch for 14 days; however, after screenshots of "extreme sexual comments" came to light, Twitch decided to give JiDon a permanent ban. 
Consequently, Ninja rebutted Pokimane for twisting his words, and the two proceeded to exchange hateful posts on twitter. Eventually Ninja sent a video apologizing for any insults that he said.
However, Ninja's wife, Jessica Blevins, surged the situation into a legal issue when she threatened to sue Pokimane for defamation. After days of arguing, Pokimane eventually resolved the incident and appeared to be friendly with JiDon.
"
I'm tired of people minimizing the harassment I've received over the last week to 'just L+ratio spam"
— Pokimane
This left viewers to speculate whether the whole commotion was fake entirely. A picture showing Pokimane enjoying food with JiDon has instigated new insight to the situation.
Whether this situation was real or fake, it caused platform-wide commotion with big names like Ninja, Pokimane, and JiDon facing impending punishment.