Youngkin Becomes 74th Governor of Virginia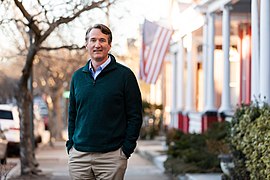 On Tuesday, Nov. 2, Glenn Youngkin became Virginia's 74th governor. With his background in high finance, Younkin aims to reduce taxes, bring more jobs, and change public education. 
"I'm not a politician," Governor Youngkin said, searching for solidarity amongst Virginians. Youngkin's base screamed out his rough childhood, and promised many goals. 
As a tenderfoot in politics, many were surprised how Glenn Youngkin was able to come across to Virginia. Youngkin sold his candidacy on the basis of business, prompting his 'common-sense' approach towards economic policy. 
Before he got into politics, Youngkin was a successful consultant on Wall Street. After earning his MBA at Harvard University, Youngkin worked in management consulting, joining the Carlyle Group in 1995. Since, he has closed buyout deals both stateside and internationally, eventually becoming a multi-millionaire. 
His wealth is no secret; he donated $20 million to his own campaign out-of-pocket. His enormous supply of money fueled his campaign, allowing him to travel across Virginia multiple times, send advertisements across social media platforms, and hire an experienced staff. 
However, his rise in Virginia politics was no cakewalk. His campaign had been defamed many times for being Trumpist and having ties to far-right extremist groups. Nonetheless, Youngkin was able to endure these allegations by finding flaws in the experienced Democrat Terry McAuliffe. 
With a mostly Democratic state senate and congress, Youngkin's win was a surprise for many across the country. With the Blue Wave movement of Virginia Democrats in 2018-19, it seemed that Republicans would have a difficult time obtaining positions in the state legislature for an extended period. This win was not just a win for Glenn Youngkin, but rather a rallying cry for Republicans in and out of Virginia.
Now that Glenn Youngkin is Virginia's governor, there are some changes he wishes to make in order to reverse some previous policies in the state executive branch.
Youngkin aims to reduce taxes on businesses in Virginia, giving them an incentive to move their headquarters to Virginia to create more job opportunities. Many companies like Amazon, opening its "HQ2" location in Arlington, have already arrived in Virginia.Youngkin's new tax incentive will make it easier for businesses to move their base here, but may not necessarily reduce overall taxes for the citizens of Virginia. 
"
With a mostly Democratic state senate and congress, Youngkin's win was a surprise for many across the country."
Glenn Youngkin has a new vision for public schools. Youngkin wants School Board members to have less power over the curriculum taught in classrooms. Part of this reason for this adjustment may be because of the backlash many school board members across the state have faced in the recent Critical Race Theory (CRT) controversy.
"I will ban Critical Race Theory," Youngkin said. With small steps like changing public school policies, Youngkin will do his best to change the political landscape in public schools. 
Republicans have a newly elected governor capable of countering many of McAuliffe's policies. This will surely change the political landscape of Virginia, prompting many more Republicans to run for office in state and local government in the future.