Volunteer Opportunities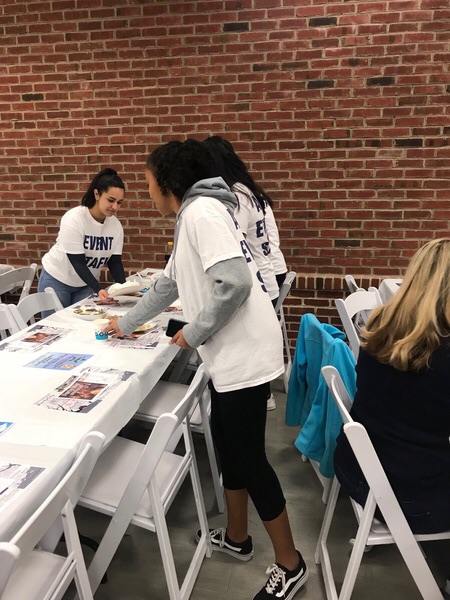 Kashish Khanna, staff writer
November 28, 2018
With excitement and anticipation buzzing in the air about the approaching holiday season, a sense of gratitude, as well as a desire to help others, has manifested in the minds of students. Taking this into account, students tend to use the opportunity to join various clubs and volunteer through those clubs. Some clubs at Stone Bridge who have volunteering opportunities available include Educators Rising, Key Club, and Interact.
There are many ways to get involved within the DMV area. Students can volunteer at food banks in Washington, D.C., prepare Thanksgiving meals for people in need at the Washington D.C Jewish Community Center, and volunteer at a local Salvation Army. These opportunities may not seem as necessary because of the wider range of locations, but the effect of volunteering is just as prominent.
Local Opportunities
Loudoun County also has a variety of volunteering opportunities. The Ashburn Library has a volunteer program that students can sign up for. This, however, is a long-time commitment and it is likely that students must attend an orientation session before starting. The library also has certain programs, such as ESOL tutoring and Reading Buddies, that are always looking for volunteers. To apply for any of these programs, or to volunteer at the library in general, visit the Ashburn Library volunteer webpage.
Opportunities Within Stone Bridge
Key Club also has many chances for students to get involved. Along with having stadium cleanups after every home game, the service club also helps out with many other things. Ashburn Fire Department has an upcoming AVFRD (Ashburn Volunteer Fire and Rescue Department) Pancake Breakfast on Nov. 11 and many volunteers are needed for it. Volunteers are needed to help set up, serve pancakes, and clean up.
Educators Rising is a club which involves students going in early to tutor kids at local elementary schools. Although the members of the club have actively been going to the elementary schools since the beginning of October, Educators Rising hosts a Parents' Nights Out every month. Volunteers supervise children as they play, help out with crafts, and serve them snacks. Volunteers are always needed for this, and it is a fun way to earn some volunteer hours. Upcoming Parents' Night Outs are on Nov. 10, Dec. 8, Jan. 12, Feb.  9, March 9, April 6, and May 12.
Many other local elementary schools also offer chances for high school students to volunteer, such as bingo nights and festivals. Students who want to volunteer at events like these should check the respective elementary school's website.