Job for a Day: Take a Walk in Their Shoes
This year, LCPS partnered with the Job For a Day Program to provide students with the opportunity to experience careers or fields they are considering by shadowing a community member on Wednesday, Nov. 15.
"It is a great exposure to a student's interests, and it helps them learn more about what their chosen career is," Career Center Assistant Tracey Jolley said. "It's a good hint, a good start."
The program is available to all junior and senior students. Registration was available on the online portal from Monday, Oct 23 at 5:00p.m. to Wednesday, Nov. 1 at 5:00p.m.
Those interested in in a medical cluster or health science occupations will participate on the second day of the event at Inova Hospital on Monday Nov, 20.
The Job for a Day program has been available to Stone Bridge students for five years, and it will likely continue to be held here in the future.
"The program is only becoming more popular and organized each year," Ms. Jolley said.
The steps to apply resembled a normal application process to provide a more authentic feel to students. It included a resume, an online application, and a legal agreement.
Some of the job clusters provided include: Business Management, Education, Finance, Government, Health Sciences, Human Services, Law, STEM, Marketing, and Architecture.
A sample of the jobs students will participate in include health directors, librarians, managers, general education teachers, accountants, nurses, architect, salon assistant, attorneys, engineers, carpenter, chemist, and many more.
The wide variety of jobs and clusters available to students provides everyone an opportunity to participate.
The motto for the program is "A Commitment to Loudoun's Future in the Classrooms of Today," which describes their intent of the program is to support car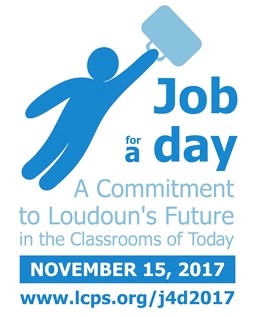 eer awareness, discover student aptitude, expose the students to businesses and industries in their communities, and strengthen motivation and decision-making skills.
All participants of the program were responsible for their own transportation for this event, as none will be provided. The program recommends students to verify their details and schedule of their day prior to the event.
Individual student plans during the Job for a Day program are determined by the hosting company, and it depends on the occupation chosen. Some companies provide the students with a more hands-on experience, while other companies prefer the students to observe.
"Some students are provided with some realistic work during their time. Their participation level depends on what their company has planned for them." Ms. Jolley said.
The JFD program continues to be held at Stone Bridge, as it is intended to be an eye-opening experience that promotes career exploration activities, and helps students narrow down possible career paths for their futures. Stone Bridge encourages its students to consider participating next year.