Science Olympiad Succeeds at States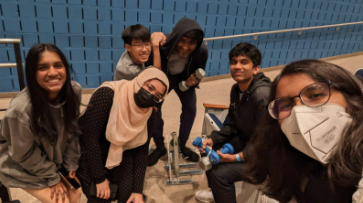 Braving rainy weather, enduring long hours, and facing students from all around the state, SBHS's Science Olympiad team participated in the state level tournament at the University of Virginia on March 25. Though the competition was tough, team members enjoyed the experience after years of being unable to attend States due to COVID. 
Science Olympiad (SciOly) is an academic competition focusing on various scientific disciplines. Competitors participate in teams of two in mainly timed test events on subjects like astronomy, forensics, and cryptography. There are also building events, which aim to have students create devices like catapults and wooden bridges. SciOly is full of specific rules down to minute details, encouraging them to expand their breadth of knowledge.
"I love to see students challenging themselves and working so independently," SciOly sponsor and science teacher Janet Cascio said. "[Science Olympiad] is a truly student-lead club." 
While SBHS's team has regularly made it to the state level tournament, they did not last year, galvanizing the team to be the best it could be. However, the ambitious goals could not have been achieved without facing roadblocks. 
"After the pandemic, it's been generally hard to retain interest in Science Olympiad, like many other clubs," co-president Salonee Verma said. "The logistics were a definite challenge, and I didn't realize before how much work went into planning each of our competitions."
The obstacles were not limited to the competition itself. Olympians woke up at 4 a.m., ran all over an unfamiliar campus in the rain, partook in difficult tests for almost the whole day, and returned to Ashburn at almost midnight. 
"I wish I could have seen all the build events," Dr. Cascio said. Competitors were allowed to watch the testing for various events throughout the day, but between the busy hours, it wasn't always possible. "It [was] hard communicating with everyone." 
"
The best part was seeing hundreds of students come together from across the state to compete and spending time with the team.
— Aishani Satia
Winning medals was something that every member of the team hoped for, but many agree that the most enjoyable and most important part of Science Olympiad is the team spirit and friendships built during competitions. 
"The best part was seeing hundreds of students come together from across the state to compete and spending time with the team," officer and sophomore Aishani Satia said. 
It was an especially exciting day for co-president and senior Salonee Verma, who won two medals with fellow classmate Hanaan Kazia. The pair have been doing SciOly for six years, and they were grateful to end their last tournament together. 
"The States competition, to me, felt like closure. Hanaan and I started our high school Science Olympiad careers with doing Astronomy in freshman year," Verma said. "The last event Hanaan and I did together was also Astronomy. It felt like a very fitting close-out to our Science Olympiad experience in high school. We wanted to continue that cycle this year, as well, so that Science Olympiad at Stone Bridge can continue to be what it's been for me. We're really hopeful for our team's future."