Breaking Ground on Cross-Curricular Garden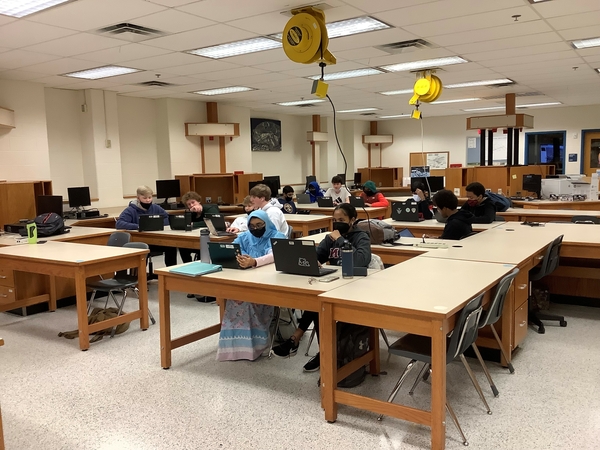 As the world wakes up from its winter slumber and spring weather blossoms, students and teachers from seven different content areas work together to design and execute plans for a communal herb garden in the Stone Bridge courtyard.
The project includes contributions from Architectural and Engineering Drawing and Design, Gourmet Foods, Intro to Engineering, Special Education, Photography, and Journalism courses. The idea bloomed from Engineering teacher Terry Lucas-Fields' idea to supplement student learning with a from-scratch class project, eventually feeding into other departments' areas of expertise.
"There were so many skills that the other classes had that would fit into their curriculum and would be useful for this project," Ms. Lucas-Fields said. "We're always looking for ways to do interdisciplinary projects, and this was perfect."
"
We're always looking for ways to do interdisciplinary projects, and this was perfect."
— Terry Lucas-Fields
The project is currently in its early stages of design and cost analysis, utilizing the engineering software students have been working with to create a more concrete vision of the final product. Once the most well-rounded design is chosen, the remaining courses will help build and maintain the garden for its use in Stone Bridge's culinary art classes.
"Students have been learning Fusion-360, which is a software that we use for Intro to Engineering, and I wanted them to put to use what they had learned, instead of just using the example that they've got in the lesson," Ms. Lucas-Fields said. "This was something where nothing was there; they had to make it as they went along."
One of the biggest factors in developing this project was its value as a learning experience in the various courses involved. The creation of the herb garden gives students the opportunity to use creative problem-solving techniques for the achievement of a larger goal.
"There's a very small amount of restrictions to what you can do," freshman and Intro to Engineering student Sarrah Dehnuwala said. "The program that we have, Fusion-360, helps you learn a lot of new things design-wise."
The various practical uses of the herb garden were also considered in the planning of this assignment. For Ms. Lucas-Fields, the project represented both a way for different classes to practice their individual skills and create a final product that can be used for the benefit of the school.
"We do a spice unit second semester in Culinary where we research medicinal and health benefits of including herbs and spices, and the thought that we could go and pick them fresh from the garden at school is great," Culinary Arts teacher Lisa Hughes said. "The flavor profile is so much different in fresh herbs, so I want the students to understand that cooking with everything fresh is better."
Although no definitive timeline has been put into place, the herb garden should be up and running soon according to those involved with the project. Students and teachers alike are excited to continue developing this project in a hands-on, practical manner, and even more excited for when they can enjoy the fresh seasonings that spring from it.
"It's sort of a real-life exposure," Ms. Lucas-Fields said. "You get the designs from other people, the cost analysis from other people, photographs from other people. This project gives a real vision of what this sort of work looks like."