Local Halloween Haunts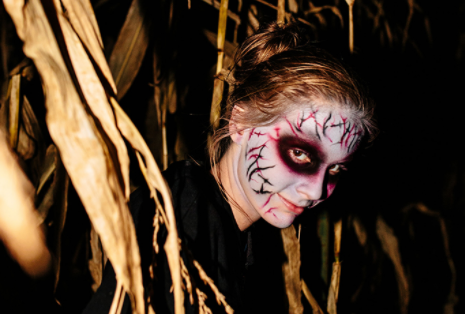 As the Halloween season creeps closer, the Ashburn area is gearing up to spook its locals with haunted houses, horror hayrides, and cursed corn mazes.
The Bulldog Tribune has compiled this season's most ghoulish attractions, all of which are happening within an hour's drive. Whether you're a thrill chaser or just enjoy eerie evenings, the following locations will surely have what you seek.
Fields of Fear:
Year after year, Fields of Fear, located in Chantilly, remains one of the most popular attractions for teenagers and adults alike. This event runs from Sept. 24 all the way to Nov. 6. Within the grounds, you can find their main attraction, Cornightmare, along with The Forest: Back 40 and Dark Hayride. Tickets for this event are only available online. Passes allow a one-time entrance to each attraction, and prices vary depending on date purchased. Masks are required to attend Fields of Fear.
Starting with Cornightmare, participants will move through the maze in search of an exit as actors lunge out at participants periodically. For The Forest: Back 40, attendees will walk more than half a mile through the woods as spiders, chainsaws, and occult members terrorize them throughout the trip. Lastly, the Dark Hayride; the tractor goes along a set path, eventually coming across a run-down circus that was abandoned in the early 1900s. Participants will come across the ghosts of past performers that come alive and are looking to scare.
Shocktober:
In Leesburg, Shocktober is a fundraiser held every year from Oct. 1 to Oct. 30 in support of the Arc of Loudoun, a non-profit organization dedicated to serving disabled people and their families. Upon arrival, a $5 grounds access pass is required for entry to the event, though this does not permit access to the attractions themselves. For entrance to the Manor and Well of Souls, attendees must purchase a $40 general admission ticket, or a fastpass for $60. All purchases must be made online and masks are required to attend the fundraiser.
With a fast pass or general admission tickets, participants will be allowed to roam throughout the manor halls and be terrorized by members of the Carver family–past owners who have a taste for human flesh. Further down resides the Well of Souls: a network of tunnels that once served as the manor's hidden basement, the main area of residency for the Carvers during their decades of living there, and a hotspot of strange activity for partakers to endure.
Workhouse Haunt:
Workhouse Haunt is a weekend only event held from Oct. 3 to Nov. 6 in Lorton, VA. Instead of the traditional indoor haunts or corn mazes, this haunt offers an outdoor walkthrough of an old, unused correctional facility campus now overtaken by an evil carnival. Ticket prices stay at $25 for each person barring any additional fees. The tickets allow full access to the haunt's attractions. As a precaution, entrances are limited to small groups and have specified time slots available for booking online.
The walkthrough starts within the old building. Participants will make their way through the halls all the way out onto the open grounds and into the forest. Throughout the trip, creepy characters will continuously work together to lure and scare the unsuspecting attendees, remaining contact free all the while. This haunted nightmare lasts about 30 minutes altogether.
Haunted Nightmares:
Haunted Nightmares is a facility located in Winchester, VA, that stays open year round but gets festive with a haunted house held throughout the month of October. All the way up to the 31st, Haunted Nightmares Haunted House opens from 1 p.m to 11 p.m on Saturdays and Sundays. Ticket pricings vary depending on payment method: per person, general admission is $15 for cash payments and $17 for credit or debit. Due to COVID-19, other haunted attractions such as The Last Ride and Burial Simulation have been shut down for the season.
During the 1 p.m to 5 p.m time slot, the Haunted House is open for younger guests or those who spook easier at a cheaper price with less actors roaming about and less aggressive scares in store. After 6 p.m, the haunt continues as actors flood in and professional sets allow for a more intense experience throughout the building.
From flesh-seeking mansion owners to undead carnival clowns, these attractions have something for everyone. To ensure you kick the spooky season off right with a few shrieks and screams, start your search for bookings and be sure to purchase tickets before they run out.