The Terrific Toy Drive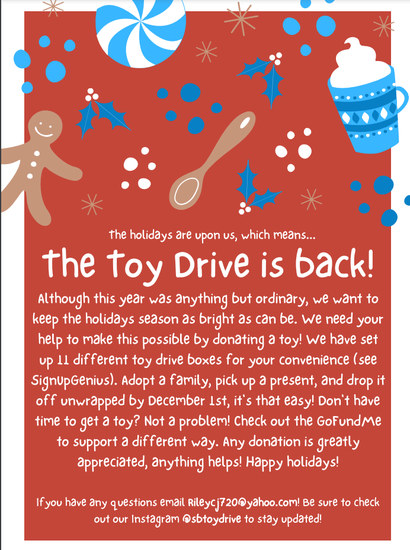 Every year SBHS has their winter toy drive, but how will they pull it off this year with the pandemic?
The goal of the Toy Drive is to help donate toys to children who can't afford them. The Drive will be going on until Dec 7. This year DECA is hosting it and has sent a SignUpGenius to families via email so that people can choose which toy they will be dropping off. Last year the Drive collected 423 toys and bought more with the $700 they were donated, this year they are trying to surpass that.
Multiple boxes have been set up around Loudoun for families to deliver their toy to so that people can stay safe while helping others. Other organizations, such as GoFundMe, have helped with the setup of websites and boxes around Loudoun.
"Due to COVID this year, the Toy Drive has had to adapt," DECA Sponsor Wes Anderson said.
Because exposure is limited, promoting the Drive has been difficult. However, DECA has found a solution by sending out fliers through their Instagram (sbdeca), emailing students and mentioning the drive during advisory lessons and announcements.
Though this year's drive setup has brought challenges, some good has arisen. For example, due to a lot of help needed with this charity, this is the first year SBHS has had the help from all three feeder elementary schools and with them comes many family's support.
"We are so appreciative for the community's help in making this project possible," sophomore DECA member Riley Jackman said.