Stay-Cay In VA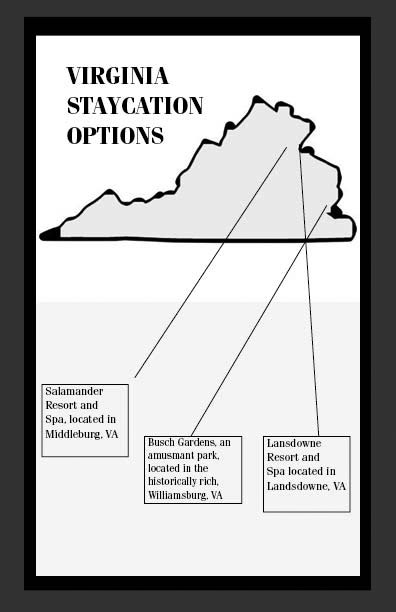 Kashish Khanna, staff writer
April 12, 2019
The time is upon us. The days are getting longer. The weather is getting warmer. Many schools have let out, or are getting ready to let out, their students for the most rowdy break- spring break.
Many people travel far and wide; people go to South America, the Bahamas, Europe, and other tropical destinations. Others travel to Florida, California, and other various places as well. However, whether it's because of time or money constraints, many people opt to stay closer to home. Although it may seem that Northern Virginia has few staycation options, here are some possible places to enjoy your spring break.
Salamander Resort and Spa is located in Middleburg, VA, which is only a 35 minute drive from Ashburn. This resort features a variety of options for everyone to enjoy. The spa offers many relaxing choices to choose from, such as: manicures and pedicures, massages, and an anti-aging facial. The resort also offers a "Spring Awakening Treatment," which is definitely a pricey treat, but promises an "energizing and invigorating treatment." Salamander also has an outdoor, and indoor pool, a tennis court, a basketball court, equestrian programs, and wine and cider bike tour. Despite the fact that the prices of the resort are quite high, it is easy to see why. The resort has a variety of different activities that are catered for all the different kind of vacationers.
A similar but less expensive option is the Lansdowne Resort and Spa. It is approximately an eight minute drive from Ashburn. Lansdowne Resort and Spa boosts its five pools, three golf courses, and a range of restaurants to dine at. This resort also has a winery for visitors to enjoy, as well as hiking and biking trails. In addition to all these facilities, it also offers a spring getaway package, that includes a variety of activities for both adults and children to enjoy. They also have seasonal spa packages for the vacationer who prefers to relax instead of explore. For the athletic vacationer, the resort offers a tennis court and fitness classes. Overall, the Lansdowne Resort is a perfect place to go, close to home, that offers many different activities.
For the more adventurous kind of vacationer, staycations that match up with their thrill-seeking level might hard to find. However, Busch Gardens could be a perfect idea for a fun, intense weekend away from home. Located in Williamsburg, VA, the amusement park is approximately three hours away from Ashburn. It has a plethora of rides to enjoy and many of those are kid friendly.
"Busch Gardens was so much fun," said Hania Abbas. "Every ride was exhilarating."        Abbas is definitely not the only person who feels like this about the park.
Junior Peyton Herring agreed with what Abbas said adding that "All the rollercoasters were so much fun."
Busch Gardens is also located in the perfect weekend destination sport, as Williamsburg also has many other things for visitors to enjoy. The city has a historical background and is not too far from both Jamestown and Yorktown for the history buff. It also has Merchant's Square which is an outdoor shopping plaza with fine-dining options. The plaza gets lively in the evening, and would be an excellent place to eat dinner after a day of enjoying the waterpark or a day of exploring the city.
Other amusement parks near Ashburn include Six Flags and Hershey Park. Both of these offer different attractions to enjoy.
Obviously, we are right near the capital of the country, Washington D.C, a socially rich climate. D.C is bursting with activities to do: museums to explore, concerts to attend, games to watch, monuments to see, and so much more. There are so many activities for every kind of vacationer. Additionally, D.C is filled with a lot of highly rated restaurants that are vastly different from one another for any connoisseur to enjoy.
It isn't always required to spend a ton of money and effort into planning a trip. There are plenty of options to have a vacation that is fun for everyone. We are surrounded by the rich historical climate of many cities, as well as culturally enriched places such as Washington, D.C. Going abroad to a warm, tropical place, is nice, but isn't always necessary to enjoy spring break; having a staycation is just as enjoyable.