Kelly Byars Brings the Heat to Girls Cross Country
In the short time freshman Kelly Byars has been running cross country at Stone Bridge, she has run one of the top five girls' 5k times, won a race, and received multiple medals.
Byars ran in the Regions meet on Nov. 1 and because of her impressive 9th place finish, she will be running in the upcoming States meet.
"The other coaches and I think she will race well, but we are not putting that much pressure on her because she is a freshman and still has a few more years ahead of her," Coach Matt Henry said.
Byars said that despite this, she is still nervous, since it is a big meet.
Byars' decision to join Cross Country this past summer was fueled by the supportive environment at conditioning and her enjoyment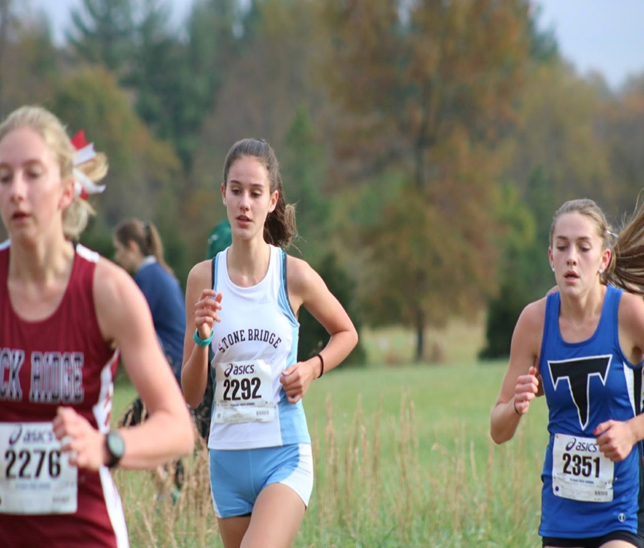 of running.
"I played soccer for a long time, and I'd run a little before, so I decided to go to conditioning to see how I would like it, and I did," Byars said.
Her goals have changed drastically since the start of the season. This is due to her first couple racing experiences and input from coaches.
"At the start of the season, my goal was 23 minutes for a 5k, but then the coaches told me I could definitely run faster than that, and I ended up surprising myself, and I just worked from there," she said.
Coach Henry added that throughout the season, as she ran in more races and began utilizing certain racing strategies that only come with experience, they started to see that she had a chance of making it to States.
"In the first couple meets, we expected her to finish high, but as the season progressed, we knew, when we compared her time to others, that she would make it to States," Coach Henry said.
Byars shared an amusing experience she had this season at the Glory Days Invitational in early October, which she said was funny after the race, but not at the time.
"I was first, and I kept going instead of turning at a curve because there was no gator ahead of me to show me where to go, and everyone was yelling, but I didn't know why until I realized what was happening," Byars said laughing.
She added that she laughed about it afterwards, but it was really embarrassing and confusing at the time. She ended up making up for the mistake by running an amazing race and earning her first place finish in the race.
Byars ran the fifth fastest girls' 5k time in Stone Bridge Cross Country history at Third Battle Invitational in Winchester.
"It wasn't a huge surprise, but she ran faster than we expected, and we were really happy for her," Coach Henry said. "I think she can work toward being one of the top runners in the state because she is definitely a hard worker and has the potential to do a lot of good things."
Byars enjoyed the fun environment during practices and going to pasta dinners with the rest of the team. She hopes to participate in cross country for her next three years at Stone Bridge. She added that she is looking forward to both Indoor and Outdoor Track and Field as well as Cross Country these next few years.