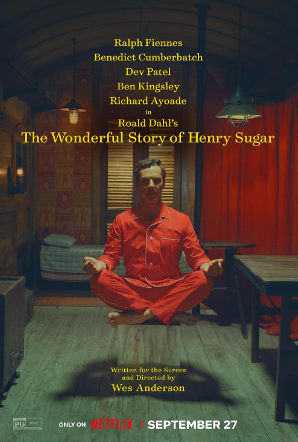 Between Sept. 27 and Sept. 30, Netflix released four feature short films based on author Roald Dahl's famous children stories. These films were directed by American filmmaker Wes Anderson, who is most well known for "The Grand Budapest Hotel" (2014), "Fantastic Mr. Fox" (2009), "Rushmore" (1998), and most recently, "Asteroid City" (2023). Anderson adapted his distinctive production and directory style to these four stories while keeping the magic of Dahl's renowned storytelling.
Launched on Sept. 27, "The Wonderful Story of Henry Sugar" was the first of the short films to be released. Also the longest-running film of the four new releases, "The Wonderful Story of Henry Sugar" is about 40 minutes long and has been the most critically acclaimed so far.
"Here we have one of the most distinctive auteurs of 21st-century cinema, adapting short stories into a series of filmed plays for a streaming service, and somehow it makes perfect sense." writer Sophie Gilbert said in an article with "The Atlantic". 
All of them are gorgeously filmed, wonderfully acted, and astoundingly faithful to the text.
— David Bianculli
"The Wonderful Story of Henry Sugar"  tells the story of a rich man who has been guarded by his immense wealth all his life and how he acquired the skill of being able to see through objects, ultimately leading him to become even more unjustifiably wealthy. As the story is shot from a rotating first person point-of-view, the unconventional elements are accompanied by Anderson's signature splendid visuals and cinematography, creating a childlike mood for the watcher to enjoy. This is fitting, considering it was based on a children's story–one of the many cinematic choices Anderson made to create a film unswerving of Dahl's work.
Anderson's unique approaches to the short films set the newest releases apart from previous works. He acquired a small cast of actors to play various parts in all four stories, showcasing the actors' wide scope of acting abilities. The cast includes Ralph Finneas (Roald Dahl), Benedict Cumberbatch (Henry Sugar), Dev Patel (Dr. Chatterjee), and Ben Kingsley (Imdad Khan). He also explores a style of narration in the films where the characters look to the camera and describe their actions, as well as their thought processes, as they are fulfilling them, all at an extremely high speed. It was an audacious move, but a successful one. 
"[All] of them are gorgeously filmed, wonderfully acted and astoundingly faithful to the text and tone of the original prose." TV critic David Bianculli said on NPR.
Dahl's stories have been adapted into TV and film multiple times before, through "Charlie and the Chocolate Factory" (2005), "The BFG" (2016), and Anderson's very own "Fantastic Mr. Fox" (2009). Of all the renditions, the newest collection, including "The Wonderful Story of Henry Sugar", has risen above as the most celebratory of Dahl's work.