Gomez Goes Dark Following Bieber Drama
Drama surrounding Hailey Bieber and Selena Gomez piqued the internet's interest after their most recent exchange. Amidst fan speculation (and borderline obsession), Gomez deleted all social media soon after becoming the most followed woman on Instagram.
On Feb. 22, Gomez posted a light-hearted TikTok admitting she over-laminated her eyebrows. A few hours later, celebrity Kylie Jenner shared a selfie with "this was an accident ?????" written over her face in text, and later posted another screenshot of her and Bieber showing off their eyebrows. The internet blew up following this incident, calling the two "mean girls" while defending Selena.
"This is reaching," Jenner commented on a fan TikTok about the situation. "No shade to Selena ever and didn't see her eyebrow posts! U guys are making something out of nothing. This is silly."
Despite the buzz, Gomez believed the situation was coincidental, defending Jenner and Bieber, and stayed positive through all the hate. 
"It's OK!" Gomez commented on a fan's TikTok video. "I don't let these things get me down! Be nice to everyone!"
Bieber and Gomez have a long-standing–perhaps fan-speculated–feud that has been wildly popular for years, stemming from them both having long-term relationships with singer Justin Bieber. Magazines, blogs, and TikToks have been obsessing over the drama despite the celebrities rejecting any alleged strife between them. 
"It's all respect," Bieber said in a podcast when describing her relationship with Gomez.  "It's all love."
While Bieber and Jenner have received significant amounts of malicious comments and  unfollows, Gomez faced her fair share of backlash. What started as innocent jokes and memes about the situation turned into vicious body-shaming and incessant hate comments. The singer has since logged off of her social media accounts out of concern for her mental health. 
"
"I am happier, I am more present, I connect more with people. I understand how powerful the internet is, and in so many ways it's done the best things for the world. But for me, I get to my news that is actually important I get through people in my life."
— Selena Gomez
Despite becoming the second most followed account on Instagram, Gomez took a step forward and removed herself from the toxic situation at hand, citing her age and lack of investment in the gossip as reasons for her valorous choice. 
"I'm going to be taking a second from social media because this is a little silly," Gomez said in a livestream. "And I'm 30, I'm too old for this. But I love you guys so much, and I will see you guys sooner than later. I'm just going to take a break from everything."
Fans and haters alike have spent years hunting for any semblance of disputes between the two stars, but the relevance of the drama seems to be coming to a close as Gomez and Bieber look to move on. 
"We're attracted to the story, and we don't really care if we're hurting someone or uplifting someone," Rockwell said. "We just love a good, dramatic narrative."
About the Contributor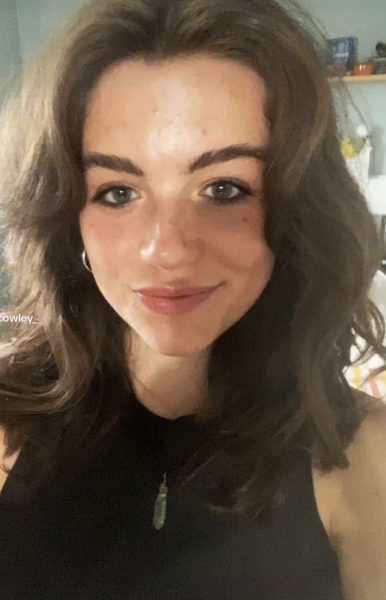 Addy Cowley, Editor-in-Chief
Addy Cowley is a senior and the "Bulldog Tribune"'s EIC, the president for Cards4Cause, and the secretary of Key Club. She grew up in four countries,...