Burton's "Wednesday" a Supernatural Success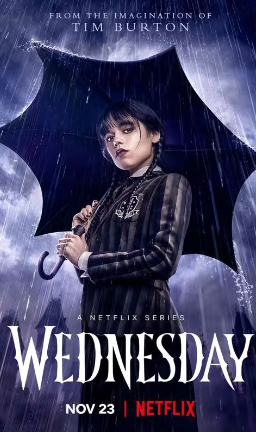 Netflix released its spin on the classic "Addams Family" on Nov. 23, shifting the main focus away from the full family and toward everyone's favorite goth girl, Wednesday Addams. Famous director Tim Burton directed the series, giving both Addams Family fans and Burton fans a reason to eagerly await his take on the iconic characters.
"Wednesday" follows the infamous Wednesday Addams, played by Jenna Ortega, as she is sent to a new school full of secrets that lurk in the shadows. The show explores friendship and relationships, while still instilling curiosity in where the plot may go next. 
"I couldn't wait to watch the show because I love the Addams Family as well as Tim Burton," sophomore Allie Wissing said. "I couldn't wait to see the mysteries and creepy elements come to life." 
Not only did Burton successfully execute the show's gothic elements, but the star of the show, Jenna Ortega, has been receiving considerable amounts of praise for how well she portrayed her character in the context. Ortega even went as far as choreographing her own dance for a scene completely inspired by 80's goth dancing. Adding to the show's unique features, Ortega made the choice to her character's unsettling stare, managing to go the entire show without blinking. This feat has taken social media by storm, as people are now trying their best to recreate Ortega's impressive skill. 
"When I watched the dance scene for the first time I thought it was so cool!" sophomore Lana Perez said. "It's fun getting to see all of my favorite influencers dress up and dance like her on social media."
"
If I could describe the show in one word it would be mysterious. There were a lot of plot twists I was just not expecting.
— Kayla Welsh
Even though the show has only been out for a little over a week, the impact the show has had has already been widespread. People everywhere are admiring Ortega's character, creating a trend of bangs and classic goth dancing and clothing to mimic her unique style.
"I haven't been able to go on any social media without the constant mention of the show!" Perez said.
The nail-biting show drew fans in with its many twists and turns throughout the eight-part season. Viewers were left with their jaws dropped and stomachs turned.
"If I could describe the show in one word it would be mysterious," sophomore Kayla Welsh said. "There were a lot of plot twists I was just not expecting."
Even though the show targets more of a teenage audience due to its adolescent romance and comedic elements, it is a show that can truly be enjoyed by everyone.
"When I was little, I loved watching Wednesday in the 'Addams Family'" sophomore Krisha Gliponeo said. "I think kids now would enjoy this series as well as older fans, from me to even my grandparents."
About the Contributor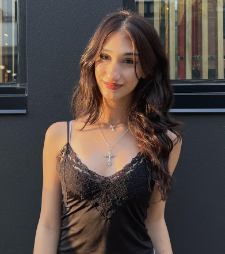 Emma Goodfriend, Staff Writer
Emma Goodfriend is a junior and a returning member of the "Bulldog Tribune". She has played soccer for 11 years, two of which were for Stone Bridge. Emma...