Strangely Different in the Multiverse of Madness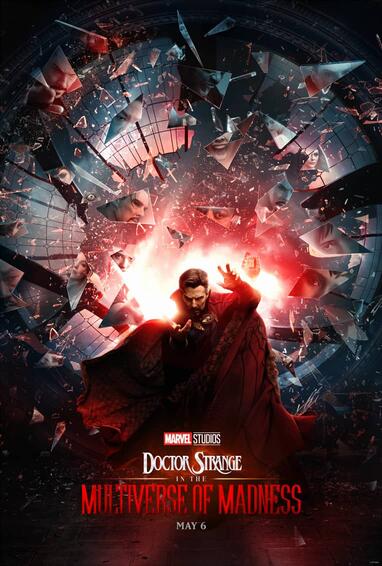 In a fictional universe, where a flying tin can (Iron Man) and a 90-year-old warrior (Captain America) fought the enemies of mankind, a different kind of hero takes on unseen enemies. While the hero can travel and fight enemies in whichever multiverse he so chooses, it does not stop Dr. Strange from becoming the next underwhelming extension of Marvel's Phase 5.                       
Rather than letting the once-great movie franchise rest peacefully, director Sam Raimi balled out. To put the success of this movie into perspective, the prequel, Doctor Strange, racked up $677.7 million in the box office. Currently, Doctor Strange: Multiverse of Madness is at $800 million and rising.
Doctor Strange's newest story is a dark twist for the superhero movie making giants at Disney. Like Shang-Chi's newer style, Doctor Strange in the Multiverse of Madness is different from past Marvel films in that it features themes of horror. While this raised certain criticisms from some, one can only speculate the future Marvel horror. 
The movie earned a solid 74% on Rotten Tomatoes. "The result of all this is a lot of crumbling masonry and an abundance of gruesomely charred bodies that make it clear Raimi is out to honour his horror movie credentials," said Rotten Tomatoes critic Sandra Hall. "But for all his efforts, the effect is curiously uninvolving."
Furthermore, many viewers tie this movie to the underwhelming What If… series on Disney+. While much of the plot features references and hints to the show series, Doctor Strange in the Multiverse of Madness gives a new outlook for Marvel's sci-fi realm.
From being an egotistical brain surgeon to a wise but mildly terse sorcerer, Doctor Strange has developed far from his origin. In a way, it seems that Marvel's large success of the new film is partly due to Benedict Cumberbatch's acting. As seen in his famous hits The Imitation Game, The Courier, 1917, and Doctor Strange, Cumberbatch's acting as a leading role fit perfectly with the character. 
Ultimately, Marvel's Phase 4 and 5 movies are becoming much more intertwined in plot. Marvel is likely using the 'Multiverse,' a combination of universes, to connect story plots in a way that has never been done before. Such has been used with WandaVision and Loki's connection to Doctor Strange in the Multiverse of Madness. 
"
Raimi leaves his fingerprints all over this, and the multiverse madness makes it one for the books.
— Marriska Fernandes
Interestingly, the cameos in Raimi's new film give a small glimpse that different film franches can become intertwined. This movie might allow one to speculate that an X-Men and Avengers crossover could be in the works. What previously used to be impossible–due to the many licensing issues–can now be possible with a creative plot trick from Marvel directors. 
"Overall, this entry is extremely entertaining, fun and a ride that gets dark at times — and that makes it all the more fun to watch," Rotten Tomatoes critic Marriska Fernandes said. "Raimi leaves his fingerprints all over this, and the multiverse madness makes it one for the books."