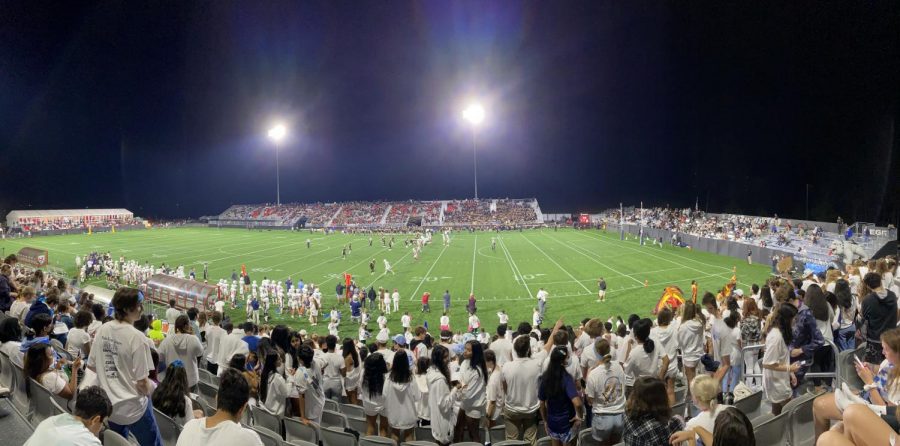 After defeating every opponent this season, the Stone Bridge varsity football team reclaims their dominance in Ashburn. Now 7-0, the Bulldogs outperformed the Spartans 64-7 on Saturday, Oct. 2 at Segra Field in Leesburg, Va.
"Winning meant everything to me," quarterback Jacob Thomas said, "I had never beat Broad Run in my career so it was good that we finally won!"
In the past, Battle of the Burn has been played at either Stone Bridge or Broad Run. This year, the game took place at Segra Field, home of Loudoun United, which can host five thousand spectators. 
"[Playing on Segra Field] was an amazing experience," wide receiver Zeke Wimbush said, "It was so much fun."
His teammate, Thomas, agreed that playing on Segra Field created a different atmosphere for the Bulldogs.
"Playing on Segra was a crazy experience, and playing in front of that many people was such a real moment!" Thomas said. " Having that type of turn out is good for the community of both of the schools."
The football players were not the only ones who enjoyed Battle of the Burn. The students who were watching cheered on the team, waved around their towels, and celebrated the win by tossing chalk powder.  
"[During] the 2018 game, the stands were definitely not as energetic this year," senior Elizabeth Dilley said. "The student section was lively and [was] trying to be louder than Broad Run." 
Senior Jillian Kotin also thought that this year's Battle of the Burn was a better experience than past years and talked of the constant competition  between the two schools.
"Battle of the Burn 2019 was super fun, but this year was my favorite," Kotin said. "It is really cool to have everyone so involved and interested in the same thing. The competition is what makes Battle of the Burn so different. Obviously football games are between schools, but Battle of the Burn is between everything."
The varsity football team had a stunning performance with a total of nine touchdowns overall. quarterback Thomas came close to beating a school record in passing yards with 157.9 and 365 throwing yards with just 10 completions
"There was so much school spirit in the air; it was uplifting,"  cheerleader Valentina Combs-Paliev said. "It really felt like we were part of something important and the win felt monumental since we lost the last Battle of the Burn. But this year with the help of the football team, the student section, and cheerleaders we annihilated Broad Run!"
Many significant memories were created on and off the field for the Stone Bridge students who attended Battle of the Burn this year.  It's not the score, but the little moments everyone shared as a school that will be remembered most. 
"[A memorable moment for me was] when the lights went out," Wimbush said.  "We were dancing and having fun with the fans."