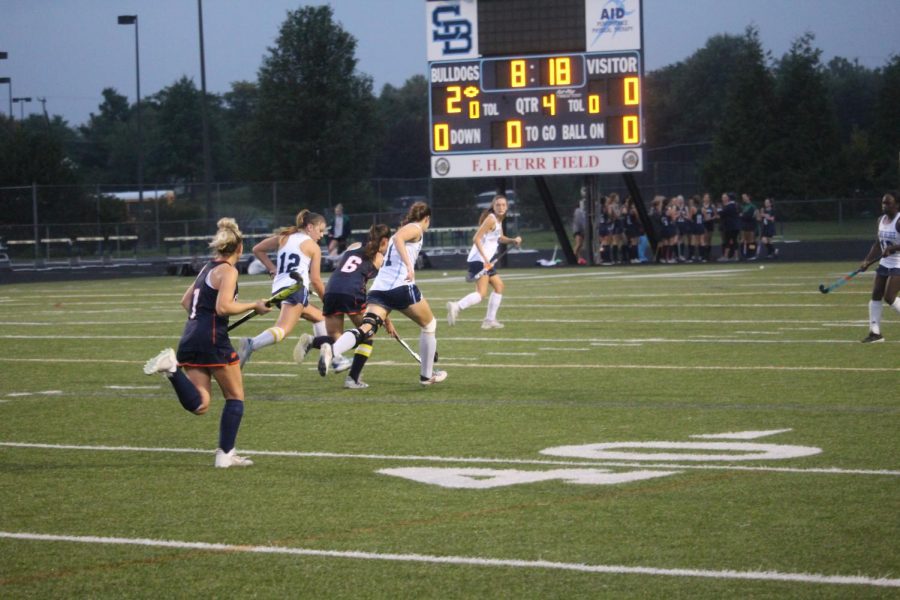 The Bulldog Field Hockey team has started the season full of heart and victory. So far, the field hockey team has vanquished six different high schools including Heritage and Potomac Falls. Notably, the Bulldogs won by at least a 6 point difference in back-to-back games against Rock Ridge and Lightridge, all while playing away from their home turf. 
The season began on Aug. 23 as the Bulldogs won their first matchup against Heritage High School. Bulldogs have since continued their success against the majority of the teams they have faced. One particular game against Rock Ridge High School marked  a highlight of the season thus far. 
"I've never cheered louder for my teammates,"  goalie Lilli Harding said. "Four girls scored their first ever goals and everyone on the sidelines was just as ecstatic as them when we heard the ball hit the backboards each time."
The 7-0 victory against Rock Ridge was special for many Bulldogs, including those who are veterans on the team.
"My grandpa asked me to score a goal for him the last time I saw him," junior Sydney Underwood said. "I joked about it later with my teammates because I didn't think I would ever do that. But that night at Rock Ridge, I made my grandpa proud." 
This win boosted players' morale and sparked confidence that left other field hockey teams across the Virginia High School League stunned. The players are more focused now than ever to make opposing schools "pay the toll." 
The team encourages all students to join them in their upcoming games. The next game on the schedule is against Potomac Falls on Oct. 13.
The season ends this Thursday, but players are proud of the progress they've made and the friendships they have developed throughout this season. 
"This year's season has been amazing, it's exciting to see how much we've improved as a whole since last season," sophomore Anjuli King said. "I especially loved seeing my teammates and I grow individually. Getting to play Field Hockey while making new friends is definitely my favorite part of the fall season."