Buckle-Down and Bundle Up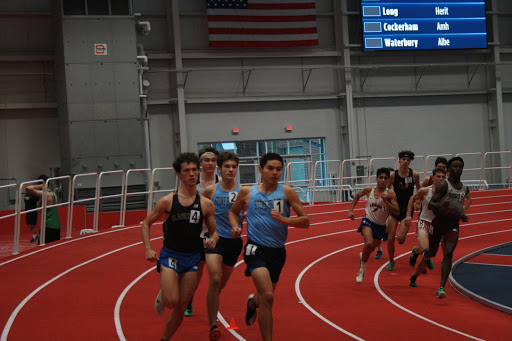 The third year of indoor track is officially underway. A wide  range of athletes have started training with coaches Nick Savage, Matt Henry, and Jason Leonard.
Indoor track is a relatively new program which had its inaugural season in 2017. The past two years of the program have helped athletes to increase their endurance and speed for the outdoor season. Now that the program is further refined, coaches can begin to concentrate more on the training rather than how the program is going to be run.
Athletes will be competing in large and competitive indoor meets such as VA Showcase at Liberty University on Jan. 17, 19 which has some of the highest-ranked runners in the nation competing. More commonly, athletes will compete closer to home during the outdoor Polar Bear meets named after their cold nature like the one that was held on December 16th.
After putting in countless days of hard work athletes are eager to reach their goals.
"All of my training from cross country is paying off and making me a stronger runner for this indoor track season," senior Jonathan Coello said.
"This indoor track season, I want to qualify for Regionals," sophomore Tia Mehta said.
Usually, athletes can qualify for Regionals by placing in the top five at Districts, but this year's Districts has been removed from indoor track. In order for an athlete to compete at Regionals they would need to hit certain times or distance in their event. This change may make it harder for athletes to qualify for regionals this year.
Due to the lack of an indoor training facility open to the usage of Loudoun County students, indoor track athletes are expected to practice and train outside throughout the season.
Although some of the most talented athletes have left the track program like state champion long jumper Natalie Barnes, who now competes at Nebraska University, coaches believe that this year's athletes still have the potential to do great things.
"We have some high caliber athletes that look to be as competitive as the state level," Coach Leonard said.
The athletes will have practice outside on the track at 4:15 p.m. everyday and will have meets on most Saturdays and Wednesdays. The dates and times of the meets are all located on Stone Bridges website under sports.
Wednesdays meets will be 'Polar Bear' meets while meets on Saturdays will be held in facilities with indoor tracks.
At their first Indoor track meet on December 7th at Liberty University runners Suzie Muller, Lauren Patrick, Courtney Partner, Jenna Brodie, and Tristan Brodie qualified for regionals in their respective races.
"Once I crossed the finish line and saw the clock I was really excited because I had qualified for regionals in my first race." sophomore Jenna Brodie recalls.