Training for Track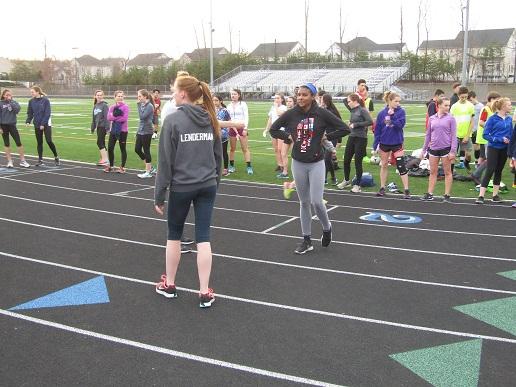 Brennah Lee, Staff Writer
March 1, 2017
Hang on for a minute...we're trying to find some more stories you might like.
Although the spring track season has not yet begun, plans are already being made to ensure the team is prepared and on the right 'track. The team needs to be ready for each athlete to achieve their personal best.
"This year, I think that we should divide the team up, and distribute the faster and slower runners so it isn't imbalanced" senior Maya Girdy said. Girdy mainly participates in the 100, 200, and 4 x 400 meter events, with her personal best being 24.8 seconds in the 200 meter race.
Last year in the spring season for 2016, the boys varsity team placed second out of five for their Conference, third out of 24 for Regionals, and seventh out of 38 for States. The girls varsity team placed one out of five in the conference games, six out of 24 in regionals, and 14th out of 35 in the state championships.
Last year the 2016 relay team, consisting of Joshua Breece, Leland Girdy, Derek Major, and Chase Ridley also set a new school record in the 4 x 100 meter event with a time of 48.33 seconds. Junior Kayla Copeland also set a record in the 400 meters in 59.68 seconds. Girdy also set two records, one in the 100 meters in 12.28 seconds, and the other in 200 meters at 25.31.
This year, tryouts for the team began on Tuesday, Feb. 21. and they ended later that week.
"We make the team run timed trials for 100, 200, and 400 meters" Girdy said.
"This year we are running the 400 and 800 meters" sophomore Alexander Moorehead said. Moorehead runs the 800 meters, and his personal best is 2'59''.
The head coaches include Mr. Jason Leonard for the boys team and Mr. Matt Henry for the girls. Ms. Nancy Thomas, Ms. Christine Cavins, and Mr. Charlie Burt assist the head coaches as the assistant coaches for both teams.
"To practice, we start together, split into boys and girls, then go to our different events, and then at the end we come back together" Girdy said.
"We practice every day, and sometimes we have an 'easy' day where we run on the trail for three to four miles, sometimes seven," Moorehead said. "I think we should include more workouts besides running, like lifting weights." Moorehead runs the 800 meters, and his personal best is 2'59''.
The regular season games will begin on Thursday, March 16 in a 5:30 p.m. away competition versus Potomac Falls, and the conference games have been scheduled to begin on Monday, May. 15. for Conference 14.
The 2017 team will compete against many other schools, including Potomac Falls, Chambersburg Area, Briar Woods, and Tuscarora, which are mainly high schools from Conference 14.
Some of their upcoming events include the Dwight Scott Invitational April 1, Grizzly Twilight Classic April 8, Wolverine Classic April 21, Cassel's XBC Track April 29, Dogwood Track Classic May 5, and the Gar-Field Invitational on May 6. The places for these events have not been determined yet.
"We just need to train harder" sophomore Andrew Fryer said. "I hope we do well in our Conference and at Regionals. "Fryer runs the 800 meter at his personal best of 2'22'', and mile run at 5'34''.
"I hope that this year we will be a stronger team, and I also hope that we win regionals this season" Girdy said.