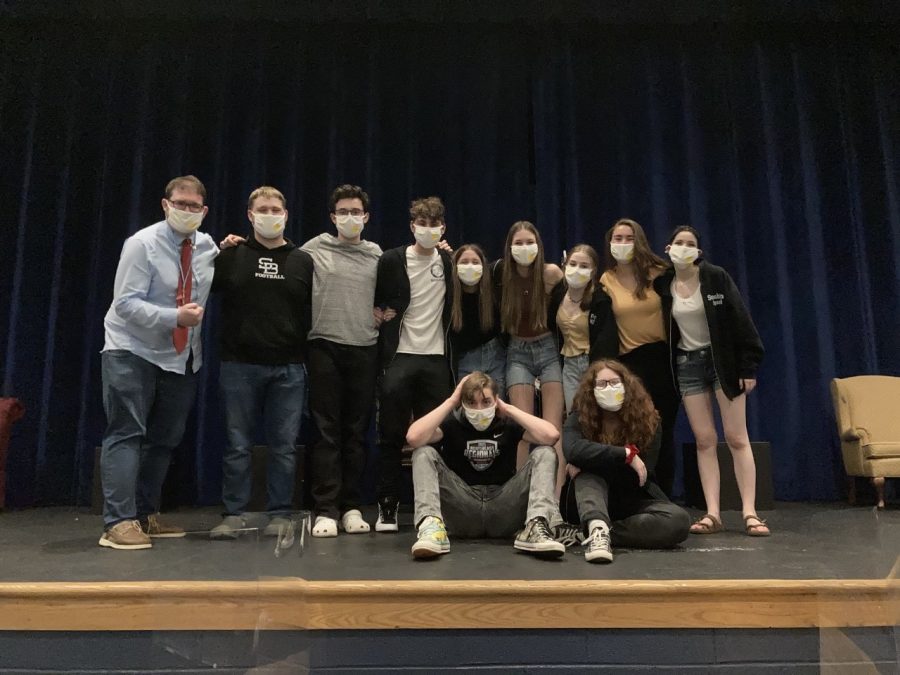 After losing traction during the recent online school year, the Sunshine Squad, an improv group, has rebooted with new members for the 2021-2022 school year.
Last year, the club had all but dissipated; auditions and practices were postponed until the middle of third quarter, leaving time for only one official show. This year, the Sunshine Squad jump-started with first auditions held Sept. 7 and callbacks and final decisions on Sept. 8.
"We looked for people with a lot of energy, because that's one of our main things, obviously comedic ability," group co-captain Bella LoBue said. "Really, the main thing is energy and being confident enough to get up and do it, because improv is a scary thing. We weeded them out from there."
By the end of the narrowing process, the Sunshine Squad was left with four fresh-faced members: junior John Blasdell, freshman Ayden Brook, sophomore Sianna Eaves, and sophomore Zubair Mahedavi.
"I auditioned for Sunshine Squad because I've always liked acting, and I've always been very spontaneous when it comes to comedy," Blasdell said. "I thought I would be good at it so I gave it a shot"
Now that all twelve of the members have been officially named, practices are underway. The first practice happened promptly on Tuesday, Sept. 14.
"We have practices Tuesday and Thursday mornings," senior Diana Altenhof said. "This is the kind of thing I actually look forward to going to, even if it does mean waking myself up early and hauling myself to school at 8 A.M."
During those early mornings, all twelve of the members show up to start preparing for shows. Oftentimes, they consist of exercises similar to those of the official performances.
"We play improv games, mostly the ones we're gonna do in the shows so that way we have some knowledge of how to do them in the shows," junior Theodore Streaker said. "We'll be able to build bonds so we're funnier."
The Sunshine Squad holds shows once per month, excluding months where major productions-such as the school musicals-take place. The group's performances are generally held in the black box, though they sometimes occur in the auditorium. Admission fees are $5.
"The usual goal of Sunshine Squad is to have a show every month," LoBue said. "We have a show on October 28."
Coming this October, the Sunshine Squad will be hosting their first show. Attendees will witness the art of improv from fellow students and may even be tempted to try it themselves.
"We're gonna have four spots open next year, I think," Streaker said. "You should audition for the Sunshine Squad next year, anyone who reads this."