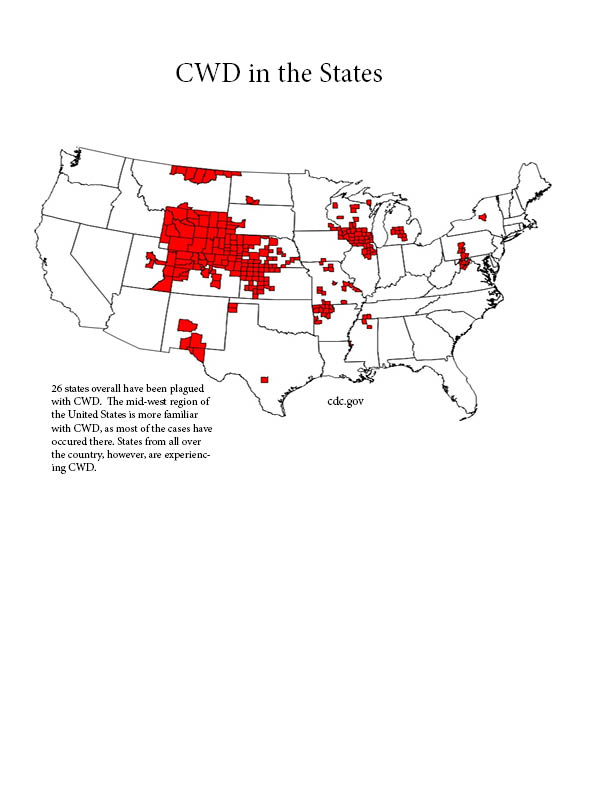 The term "zombie deer disease" is enough to scare many people, but in Loudoun Country it's a disease that is common. The disease has been reported in 26 different states. The deer population is taking a drastic decline because of this disease.
Chronic Wasting Disease (CWD) has become extremely ordinary among the states with high forest density. The disease directly affects the brain of the deer causing abnormalities and death. Although the deer have not been labeled as dangerous, it is still important to remain clear of the diseased deer.
The symptoms of CWD are slender figure, wobbling walk, and constant drooling. Most of the deer, however, do not reach the final stage of CWD where the symptoms begin to show. The disease is extremely brutal and harsh on the brain of the deer. The disease has not been confirmed if it can be transmitted to humans or not. Many are concerned because of the effects and brutality of the disease.
Daniel Zendil, sales rep from Gander Mountain headquarters in Minnesota, is educated on the subject and could discuss the sales aspect of the disease.
"Hunting gear is one of our best sellers in store and online," Zendil said. "The disease obviously affects the deer population which impact our hunting gear sales." Because the deer population is declining, there is a lesser demand for hunting gear.
In Virginia this past fall, the Department of Game and Inland Fisheries (DGIF) sampled over 1,300 deer in the CWD Containment Area and are currently working to confirm and compile the testing results. DGIF is also working with taxidermists across the state to collect samples from areas of Virginia where CWD hasn't been detected.
There is no current evidence that CWD can be naturally transmitted to humans, livestock, or pets. However, the Centers for Disease Control and Prevention advise hunters to steer clear of CWD-positive areas and to not consume any animals that test positive for the disease.