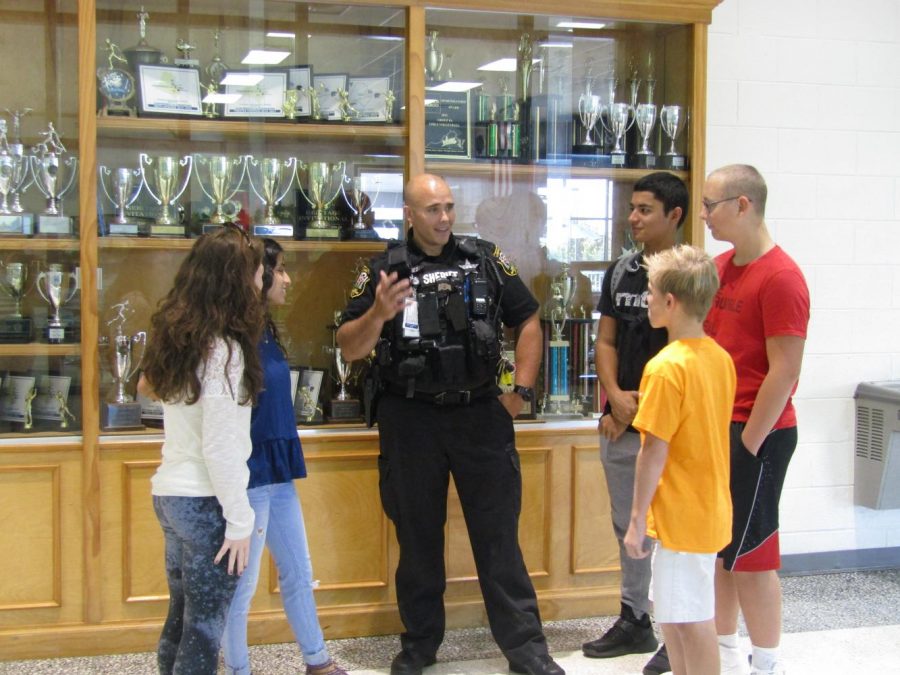 Amy Ressler
Driving to school is described as "a privilege, which requires responsibility on your [the student's] part to ensure safety and security" in the Stone Bridge High School Student Handbook. The handbook also states that should any driving privileges be violated, "[it] can result in suspension of privileges and other disciplinary consequences."
In the past couple of week since the 2017-2018 school year has started, students who drive to school have noticed what seemed to be an increase in police presence with fellow students getting pulled over almost every morning.
However, this increase is not the result of a formal decision by the Loudoun County Sheriff's Department or the Loudoun County School Board. The sheriff's department conducts rotations between the Loudoun County high schools in order to regulate traffic at each school at specific times during the year. Currently, Stone Bridge just happens to be the school under closer watch as part of this regular rotation.
Loudoun County Public Schools continues to be one of the safest school districts in the country according to Ms. Suzanne G. Devlin, Supervisor of Loudoun County Public Schools Safety and Security.
"In 2013, Loudoun County Public Schools partnered with the Department of Homeland Security to be among the first school divisions in the Country to join 'If You See Something, Say Something,'" Ms. Devlin said.
She says keeping our schools safe is everyone's job, and that is why the county has been so successful with this relatively new initiative.
"We should all be proud of the great partnerships we share with law enforcement and the Loudoun Community at large," Ms. Devlin said.
School Resource Officers (SRO) also help to keep the Stone Bridge community safe. The SRO program was implemented in the county in 1996 and expanded as new schools were built throughout the county.
"The LCSO [Loudoun County Sheriff's Department] did coordinate a School Awareness & Firm Enforcement (S.A.F.E.) Traffic Enforcement Initiative last week in the area of your school," LCSO Media Relations and Communications Manager Mr. Kraig Troxell said, "LCSO staff coordinate with members of Loudoun County Public Schools to identify safety issues in regards to traffic and parking related issues and conduct traffic enforcement in those areas."
The LCSO would like to remind students of a couple easily overlooked safety tips, such as remembering to take backpacks off before getting in the car and before putting your seatbelt on, and never standing in the road when waiting for the bus.
"Teens are also reminded never to overload their vehicle; everyone riding in a vehicle must use a safety belt," Mr. Toxell said, "Be a good role model for your younger brothers, sisters and friends, and help them learn and follow vehicle safety rules."
New School Resource Officer (SRO), Deputy John Paul Jones, filled Deputy Ritchy Fowler's position when he retired at the end of last school year, and officer Jones is taking his new job very seriously.
"He's done a great job fitting in so far; we really quickly developed a level of trust between the school administration and him," principal Matt Wilburn said, "He's been helping out a lot, he is very visible both in school and at after school activities."
Deputy Jones' job entails interacting with students, investigating crimes at school, keeping teachers, faculty, and students safe especially if the school is under any sort of threat, regulating traffic, educating students about the law, helping in drivers' education classes, suicide assessments, and more.
"My favorite part of this job is getting to interact with the kids, answering questions about law enforcement and police matters," Deputy Jones said, "A lot of kids don't know a lot about police work, they only know what they see on the news which is about 1% of law enforcement work."
He can be found in his office in the main office, the cafeteria, or the front of the school at various parts of the school day.
"I'm an intimidating person," Deputy Jones said, "I'm a big guy with this giant [gun] on my chest and you guys think it's scary, right? But I'm not that scary, we're here to help."
He wants students to know he is approachable and that he is here to help, protect, and inform the young adult community he works in.
"I don't get paid a lot for doing this, but I am very passionate about my job and protecting this school," Deputy Jones said.