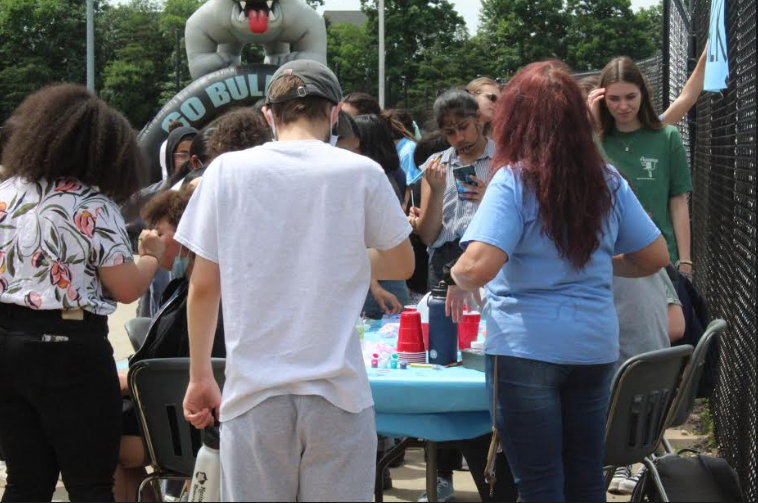 As the school year comes to a close, seniors are moving out and underclassmen are moving up. June 3 marked the last day for Senior Bulldogs who had a day full of ceremonies, goodbyes, and Field Day games!
As a last big send off, Stone Bridge staff and the SCA organized a schoolwide activity fair for all Bulldogs to participate and end the year on an upbeat note. From high energy water balloon toss to leisurely sidewalk chalk, the blueprint had it all–even an ice cream truck!
"The ice cream was great," junior Andrew Michael said. "I wasn't expecting it."
Last year, Field Day could not be held due to the pandemic, and because of this, expectations were high with hopes that this year's event would make up for that loss. 
"I thought it would be boring, but it wasn't that bad!" sophomore Dani Otarola said. " Everyone was awesome. I will probably participate next year because it was pretty entertaining." 
Although multiple activities were in the running for "most fun", every Bulldog had a favorite– whether it was a preset station or just a stroll through the campus!
"I enjoyed being able to hang out with my friends and just walk around," junior Hanaan Murtuza said. "Plus, not having an eighth block was nice."
Despite having multiple positive reviews, there were still a few aspects students hope to change next year. 
"They should include a better map next year," Otarola said. "This one was a little confusing."
All in all, the school year celebration ended on a good note, with students and staff enjoying themselves alongside one another. This fun farewell will hopefully leave a lasting impact in the minds of the 2022 senior class. 
"Field day was pretty fun," senior Sanjitha Prabakaran said. "It was nice to spend some time outside in the beautiful weather with friends–it was a nice afternoon."