Holidays Around the World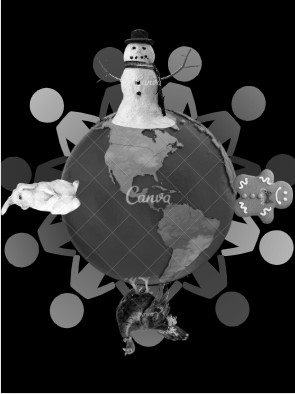 Tanuj Sistla, News Editor
January 6, 2020
The holiday season is here, and while Christmas is currently the primary holiday of interest in the US, it's important to keep in mind the values celebrated by them all.
There are hundreds of holidays celebrated around the world, recognizing many different cultural differences and values. These values extend worldwide. Some good examples of this include Christmas. Despite being a Christian holiday, it is celebrated by all cultures and religions.
Greece celebrates Christmas similar to the US. They celebrate through Christmas trees, Christmas carols, cookies and more. But there are some other traditions involved. A traditional bowl with water and a basil-covered cross is preserved, and during Christmas, the cross is dipped in holy water, which is sprinkled around the house to keep away bad spirits. Additionally, typical Christmas meals include lamb or pork.
It's clear that the manner in which different countries celebrate holidays like Christmas varies, both in method and in values.
"The different international holidays are similar, but with that they're not similar," junior Caiden McClimans said. "They can mean different things. One person could be celebrating Christmas, but for another person, it could be more than just Christmas."
This does indeed ring true for many countries, such as Finland, which celebrates Christmas in honor of people's loved ones who passed away. People light candles next to their loved ones' graves to remember them and make sure that their spirits live on forever.
When you compare all these different holidays and the manner in which they're celebrated, it's clear that all the celebrated holidays are connected.
The Day of the Dead, for example, is another holiday that celebrates friends and family who have passed on. It is mainly popular in Mexico, but is also celebrated around the world for a variety of different reasons. Halloween is like its own version of The Day of the Dead.
"Most of the holidays are religious," junior Solaiman Nawab said. "But others are more cultural like Day of the Dead."
Regardless of the type of holiday, one thing seems to be common among most international holidays: unity.
"The values that they have for the most part are all about community, togetherness, family, rejoicing," Nawab said. "I know in most cultures, people get together. It can be extraordinary. I think the main focus is unity. Whether it's in times of adversity or times of peace you want to share that bond with family, country, culture, society, and more."