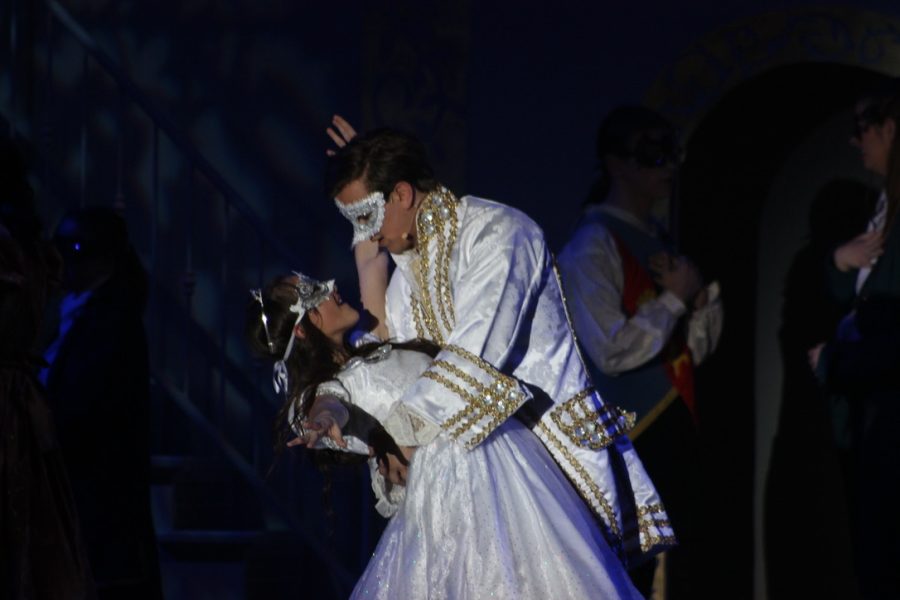 Running Dog Productions had their 22nd spring musical, Cinderella, on April 28, 29, and 30 in the Stone Bridge auditorium. The show consisted of many songs played by a student pit orchestra and sung by the talented cast. Not only did the choreography and music catch the attention of the audience, but the stunning light effects really brought the show to life. Many students, teachers, and visitors came to watch the performance on all three days, packing the seats with anticipation of yet another brilliant show.
This feat, however, was not accomplished without preparation: there were multiple months of rehearsing and creating the set and costumes after the program's earlier play, Alice in Wonderland, was orchestrated just this year.
"Lots of time and effort went into this show," sophomore Lydia Rouse, who played Cinderella's stepmother, said. "[We had] at least three rehearsals a week for two months, and everyday from 4:03 p.m. until 10:30 p.m. in the last week, including hours during school and practice outside of school."
The last week of rehearsal was not only busy and overwhelming, but really helped the cast prepare for the final performances to come. This preparation doubly paid off when the students received positive reviews from the audience. 
"The performances were all great, [and] a perfect show from an actors view is different [from] an audience point of view," junior John Basdell, who played Prince Topher, said. "Talking to people after the show, they don't notice the mistakes made. A perfect show to me is when you can play off your mistakes and make it seem like there were none."
Not only did the cast's practice result favorably in the actors' showings, they also had the chance to bond and create memories with their castmates during the experience. 
"My favorite memor[ies are] getting together with the stepmother and stepsisters to choreograph 'Driving Through the Moonlight' and 'Lovely Night', work[ing] scenes and harmonies, and bond[ing] as castmates," sophomore Ayla Harding, who played Ella, said. "We were able to build great relationships with one another that reflected really well in our chemistry on stage."
As with all great shows, cast members had certain scenes that stood out to them and were meaningful for many different reasons, including through emotions, development, and complexity. 
"There are multiple scenes I love, but my favorite scene has to be the evil stepmother ripping Cinderella's dress and banishing Gabrielle from the house," Rouse said. "I love this because it shows lots of character development through each character and their backstory of how emotions get to them."
Basdell, who played a significant role as the lead male role, also emphasizes his favorite scene was important due to the growth in his character, Topher, as well as showcases depth in the character he portrayed. 
"My favorite scene is the argument with Sebastian," Basdell said. "It allows me to expand the character aside from just being happy all the time. Topher is a more complex character, and he is truly in pain when he loses Ella. His anger at Sebastian is not only fun to play, but very important in his character arc."
Basdell was happy to be cast as someone as important as Topher; playing such a large character was not only frightening, but exhilarating on the stage. He was glad that even though he was put under a lot of pressure, all of his hard work paid off. 
"Playing Prince Topher was an amazing experience," Basdell said. "Having all the solo songs and being the lead is an incredible experience. There is always the worry that things will go wrong, and sometimes they do, but that's ok."
Harding, who took the lead female role, emphasized that she not only enjoyed playing the character Ella, but also the fact that it was so gratifying being able to perform again after the pandemic. 
"It's been extremely rewarding, especially after not being able to perform for so long due to the pandemic," Harding said. "I've been able to work with so many hard working and talented people that have taught me so much throughout this process. Performing as Cinderella has been such a dream come true, and I've loved being able to bring smiles to folks' faces from the stage."
Overall, the preparation that was put into the show made Cinderella spectacular, along with the amazing student actors who dedicated their time to make their performances as close to perfect as possible.
"Seeing the outcome of this show was one of the most accomplishing feelings," Rouse said. "I could not be happier with the outcome and the reviews. So much effort was put into this and it really paid off."