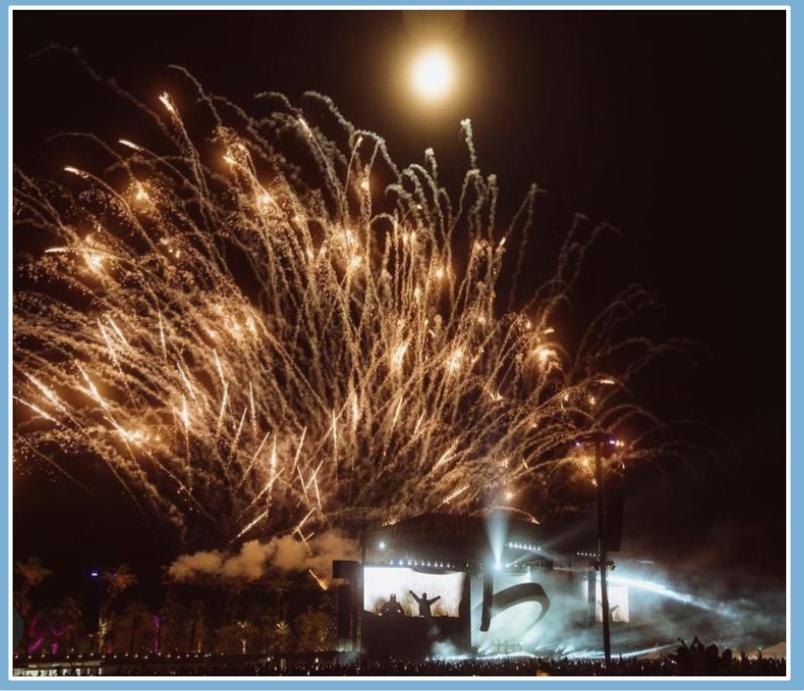 Coachella, an annual arts and music festival taking place in California's Colorado Desert, returned after two years of cancellations for Covid. The two-weekend event featured headlining performances from popular musicians Harry Styles, Billie Eillish, and the Weeknd.
The festival brought a variety of new music and fashion trends. Festival-goers, adorned in colorful new styles, enjoyed unique foods and sounds performed by their favorite artists. New music was introduced during musicians Harry Styles, Doja Cat, Conan Gray, Phoebe Bridgers, and Carly Rae Jepsen's performances.
"It's a masterful selection of tracks that eases away the final day aches and pains and makes you want to jump straight back into another weekend of celebrations right away," NME reporter Rhian Daly wrote about the event.
The festival is notably attended by social media influencers, this year being the D'Amelio sisters, Noah Beck, and Emma Chamberlain, for example. Some celebrities made an appearance as well, including Paris Hilton, Jared Leto, and multiple members of the Kardashian family.
"I had a blast," Tiktoker and Coachella attendee Hannah Harrell said. "I met so many people that I feel like I wouldn't have met elsewhere. There was definitely some chaos, but I feel like if you go with the right group of people, you'll have fun."
A widely known Coachella tradition is pushing the boundaries of fashion, which is part of the reason the festival attracts so many big-name attendees. Everyone who attends dresses up in their craziest fashion-forward outfits. This year, bright colors, sequins, fishnets, corsets, fringe, and cowboy-themed clothes made a prevalent appearance.
"The performers brought enough sparkle, statement, and sequins (Harry Styles and Shania!) to satisfy anyone expecting sartorial drama from their festival experience," Byrdie writer Madeline Hirsch said. "There was still plenty to look at, but famous concert-goers wore outfits that were subtle, low-key—and dare I say, wearable—this year."
Despite the artistic photos, musical performances, and social setting, there are always negative aspects of the festival to be found also. According to many attendees, long walking distances, costliness, excessive crowds, and partiality towards VIP patrons were all unfavorable parts of the experience. 
"Coachella gleams with the promise of bragging rights and Instagram photos dotted with palm trees," Insider music reporter Callie Ahgrim wrote. "More than any other, Coachella seems designed to benefit VIP patrons, whether they're influencers or fans with money to burn."
The festival's expensive options and lack of convenience leave many with the impression that it caters more towards the instagram-forward than actual music-lovers.
"For the typical music lover on the ground with a general-admission wristband — hiding from the sun, trying to fuel your body with a $13 hot dog — it can often feel like you're suspended in amber, vaguely wondering if it was all worth it." Ahgrim said.
While Coachella might not be the most exciting festival for music lovers, it is still enjoyed by many people there to have a good time. "Coachella returned with a bizarrely familiar, artificial desert bloom," The Ringer reporter Jeff Weiss wrote. "[It was] a fluorescent rebirth of brilliance and cliché."