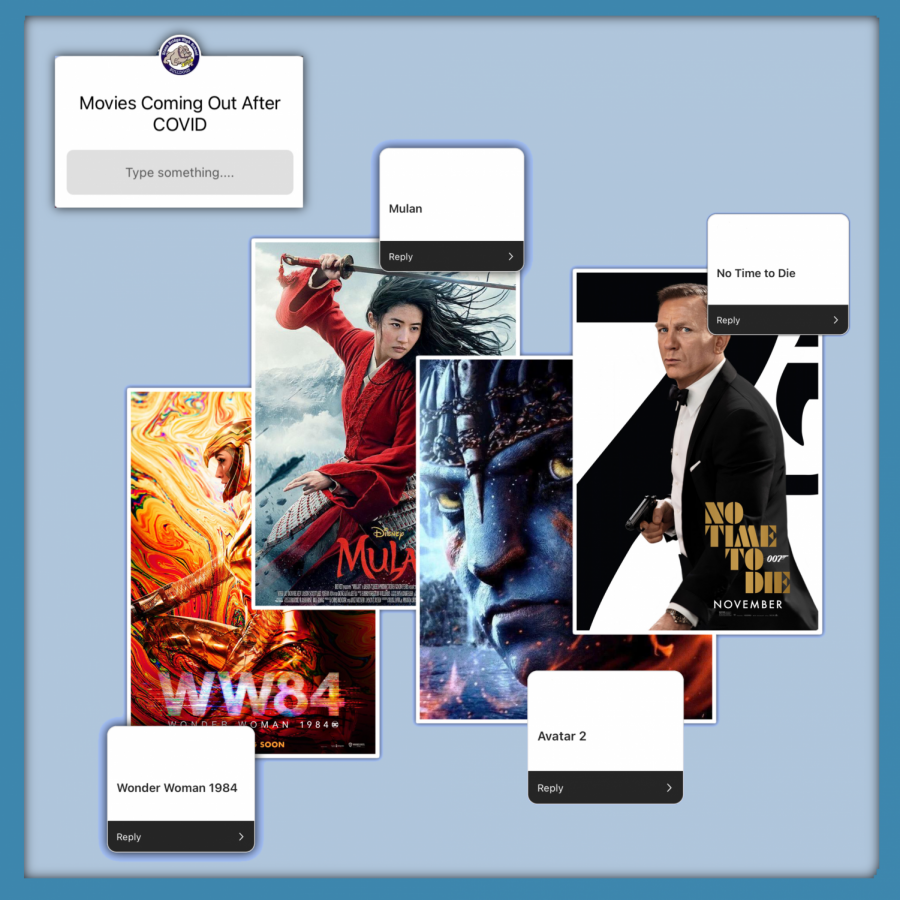 Stuck at home with only Netflix and Hulu for over 6 months, many movies that were supposed to be on the big screens have been postponed and are begging to be released in theatres. 
During the beginning of March, many districts had been gradually shutting down their schools and having students stay at home instead to prevent the growth of COVID-19. 
After Mayor Northam had ordered for all Virginians to stay inside, many restaurants and entertainment areas had closed down — including movie theatres. 
Disney Animations had postponed their live action film, "Mulan" three times, as it was originally scheduled to be released in March and finally released on September 4 this year. 
"I'm a little disappointed that they're pretty much changing the whole movie and they took out all the other characters, but I'm excited to see how much they can really focus on Mulan herself," Junior Ella Ward said. "Hopefully they can work on her matchmaking and stuff like that since we didn't see much in the animated film."
Numerous films by Disney such as Marvel's "Black Widow" and "Spider-Man 3" have both been postponed as well, "Spider-Man 3" delayed to July of 2021 due to "Black Widow"'s release moved to November this year. 
"Black Widow is one of the favorite characters, and I was so excited to see Marvel revisit her story and give us more information on her," Junior Diana Altenhof said. 
Originally set for May 1, the anticipation for "Black Widow" had brought excitement to Marvel Cinematic Universe fans.
"Scarlett Johansson has always brought another level to Natasha since the first Avengers' movie and I'm excited that we finally get to learn about her past and what happened in Budapest," Ward said. 
Robert Pattinson is to be in the upcoming "The Batman" movie that will be releasing on October 1, 2021. He was also in the recently released film "Tenet" after being postponed from August to September. 
"He's kinda a cinematic chameleon, and I'm excited to see his acting range expand," Altenhof said. "I'm hoping Pattinson makes his Batman overly dramatic, and subverts the expectations for the usual 'suave', confident Bruce Wayne portrayal."
The movie "Avatar", which was released in 2009, is coming out with a sequel, "Avatar 2," in December of 2022 after being set back for 13 years..
Guess Pandora won't be in reach for another two years.
"It's really cool that the second one is coming out, but it's been so long since I've seen 'Avatar', which was when I was 5 or 6," Junior Sophia Denayer said. 
A DC Comics action movie, "Wonder Woman 1984" a sequel to the film that had been released in 2017 featuring Gal Gadot and Chris Pine, was put off over four times since 2019. The final date was set to be released on October 2 of this year. 
"Wonder Woman 1984" has been anticipated to release since November of last year, though the production company continued to release teasers instead of the movie, leaving viewers empty handed. 
Furthermore, after "A Quiet Place" had gotten 4 movie awards since its premiere in 2018, Platinum Dunes has created a sequel to the successful film — "A Quiet Place 2". Although, the sequel will not be released until April of 2021, unfortunately. 
"I want to see the follow up of what happened after the first one," Sophomore Joe Do said. "The ending wasn't what I expected". The final scene had left many of the viewers with mixed emotions. 
Due to the amount of movie set backs, many movie critics have been unable to leave reviews for newly released movies such as "Tenet" and "The New Mutants". 
The film "Tenet" currently has a 74% rating as critic Brian Truitt of USA Today describes it as "both utterly dazzling and increasingly bewildering."
As restaurants, shopping centers, and public areas are slowly opening back up, movie theatres are, too. Movie theatres will hopefully be filled again, only, 6 feet apart, of course.