The Difference Baker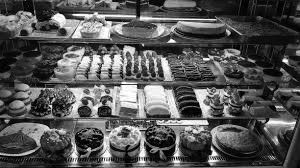 Garrett Johnson, Staff Writer
January 6, 2020
Hang on for a minute...we're trying to find some more stories you might like.
On Nov. 23 a new bakeshop opened up in Loudoun County.  Called The Difference Baker, this new bakery focuses on gluten and allergy free pastries.
The Difference Baker's main goal is to ensure a safe environment for people who are dealing with immune diseases, food allergies, and intolerances. In order to do so, the kitchen and all their food is peanut, soy, dairy and corn-free.
Many students at Stone Bridge such as Mary Decker, a junior, are thrilled to hear about this new bakery.
"Im very excited to go visit this new bakery, because of the allergy free menu," Decker said.
They have even taken the extra step and made all the baked goods vegan-friendly by not using any cows, milk, or butter in their recipes.
This pastry shop is opened three days of the week including Thursday, Friday, and Saturday. On Thursday they are open from 3 p.m. to 7 p.m., while Friday and Saturday they are open from 7 a.m. to 2 p.m. The pastry shop is located on 20937 Ashburn Road.
"I love how I can acquire my favorite delicious treats in breeze with the bakery's convenient location," junior Gabriel Figueroa said.
Their menu consists of scones, cookies, cinnamon rolls, cupcakes, and donut hole,just to name a few. Anyone is welcome to stop by and customize their own baked goods in the shared kitchen space.
Not only is this bakery bringing flavor into the community, it is also family-owned by the Sobeki's. Alyssa Sobeki is the owner of The Difference Baker, and Van Sobeki (Alyssa Sobeki's husband) is the chef and baker behind the healthy menu.
"I love cooking because it's a way to share my passion with the world," Mr. Sobeki said. "This is part of my mission to spread good and joy with as many people as possible with my talents as a chef and baker."
They partnered up with many other businesses and organizations such as Honey Brook Farms, Chefscape, and Roots to Rise, allowing their bakery to flourish. Even though they opened at the end of November. the family has been overrun with requests from those who have food allergies and intolerances.
"We wanted to spread awareness about gluten intolerance and make this difficult lifestyle easier for those struggling with it," Mrs. Sobeki said. "Most importantly, we wanted to make sure we served our community, sourced local resources, and did everything through faith and love."