"Last Christmas" Movie Delivers Disappointment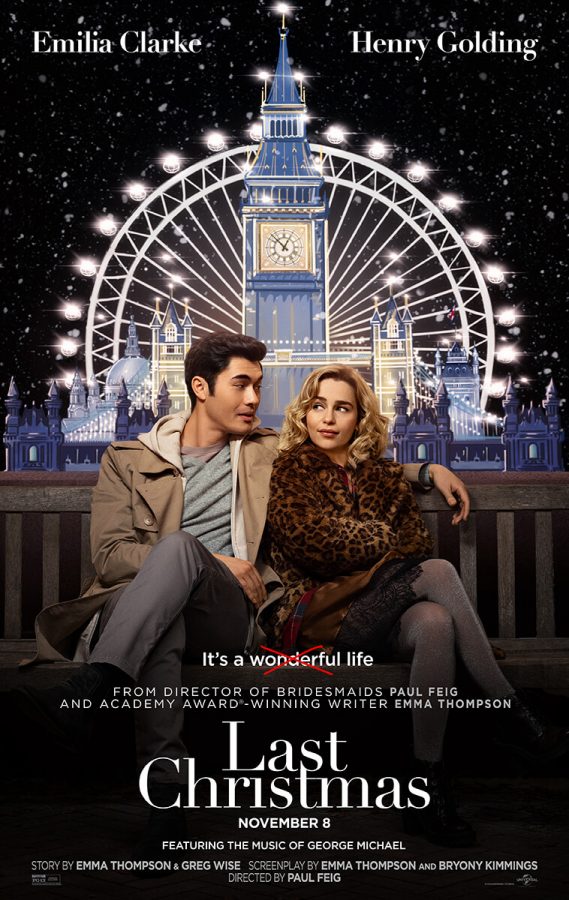 Tina Mai, Staff Writer
January 6, 2020
Christmas season has started in full swing after just releasing "Last Christmas" earlier this month–but it might be the worst movie of 2019
If plans are made to see "Last Christmas," beware of spoilers ahead… and maybe cancel those plans.
"Last Christmas" was based on the song of the same name, starring "Game of Thrones," Emilia Clarke, and "Crazy Rich Asians," Henry Golding.
Kate is a frustrated Londoner that works a dead-end job as an elf selling ornaments in a year-round Christmas shop. After having a heart transplant the year before, Kate's life is a mess, as she always felt like something was wrong. Kate soons meet Tom, a charmer who seems "too good to be true".
Kate turns her life around for the better, until she realizes that Tom was the organ donor who donated his heart to her a year ago. It was at this point the audience realized that Kate has been talking to her organ donor's spirit this whole time… such a twisted ending.
"Last Christmas" is bad. Dreadfully bad, like finding a lump of coal in your Christmas stockings on Christmas Day after waiting for Santa.
The film is meant to be inspired by the songs of George Michael, though the musician's presence was barely felt throughout the movie.  "It all builds to a big holiday singalong, but the cheer is absent," Adam Graham from Detroit News said. "The song 'Last Christmas' will endure. The movie, not so much."
According to Rotten Tomatoes, most critics had rated "Last Christmas" below a 5 out of 10. Whether it was too awkward, cheesy, or cringe-worthy, it was definitely not favored by the critics.
"In its shoddy attempt to make a splash in the British romantic-comedy genre, it amounts to nothing more than a careless whisper," Johnny Oleksinski from the New York Post said.
Not just the critics, but the audience had also left the cinema with plenty of disappointment in tow. "Turns out that crafting an ultra-charming, multi-threaded, pop music-stuffed, holiday-themed romantic comedy is harder than it looks, actually," Mara Reinstein from US Weekly said.
Directed by Paul Feig ("Bridesmaids"), co-scripted by Bryony Kimmings and Emma Thompson. "Last Christmas" had still brought on a load of disappointment, even with the large talent.
Although "Last Christmas" had received a low rating, the movie had given off good holiday cheer as 2019 comes to an end.
"This is one of the most enjoyable non-prestige offerings out there and, if it doesn't find its niche in theaters," James Berardinell from ReelView said. "It will certainly surface again in the home video market and become a favorite for Christmases to come."