History of The Cappies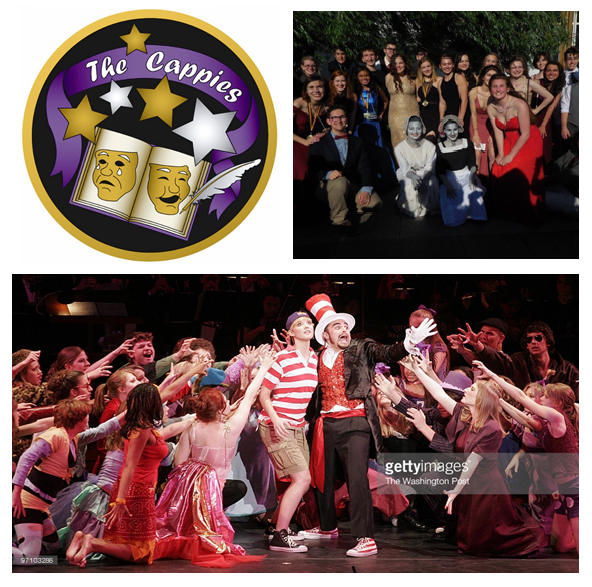 Daniel Doggett, Focus Editor
May 10, 2017
Hang on for a minute...we're trying to find some more stories you might like.
Students in competitive after school activities generally compete for titles and awards—Sports and Band for state titles, Visual Arts for individual awards and medals: the list goes on. This is the same for theatre students; however, instead of competing for a state title, these students compete for Cappies.
The Cappies (Critics and Awards Program) is an international program for recognizing and celebrating theatre and journalism high school students. Throughout the United States and Canada, there are currently 17 programs, with Stone Bridge being a part of the National Capital Area Cappie program.
Each high school selects three to nine students for a critic team. These students then attend plays and musicals at other high schools in the area and write reviews to be published into area newspapers. Stone Bridge's critic team consists of Frances Sampson, Katherine Bushman, Sonia Chandra, Gillian Kniley, Sean Schoepper, Karen Zipor, and Joan Flaherty.
Every year, all high schools in the program pick a show to represent them. After being critiqued, each Cappie show is up against each other to be nominated for Tony-style awards such as Best Lead Actor, Best Song, Best Lighting, and Best Sound. Cappie critics are also nominated for awards.
These nominees then attend a Gala held at the Kennedy Center in Washington, D.C. in June where the best receive their awards. During the Cappies gala, shows nominated for Best Play and Musical perform a scene or Song from their show.
Throughout Stone Bridge's history, Running Dog Productions has brought home 13 Cappie awards and received countless nominations. These awards include:
| | | | |
| --- | --- | --- | --- |
| School Year | Show | Award(s) | Students Involved |
| 2001-2002 | "Twelfth Night" | Best Comedic Actor | Sean Kinslow |
| 2005-2006 | "Seussical the Musical" | Best Musical, Best Lead Actor, Best Ensemble | Mace Sorensen |
| 2008-2009 | "You Can't Take it With You" | Best Set, Best Comedic Actor | John Darr, Rachel Martin, Erik DeLong |
| 2009-2010 | "Merrily We Roll Along" | Best Song, Best Supporting Actor | Ryan Bardenett |
| 2010-2011 | "Lord of the Flies" | Best Play, Best Props & Effects | Samantha Darr, Karlyn Dunne |
| 2011-2012 | "Anything Goes" | Best Comedic Actor | Ian Peterson |
| 2013-2014 | "Macbeth" | Rising Critic | Sarah Santoro |
| 2015-2016 | "The Crucible" | Creativity | Olivia Knight, Sara Wolfley |
Running Dog's Cappie show for this year was "Pippin", which ran from April 20-April 22. Tickets for the Cappie Gala will be available for purchase on May 14 and nominations will be announced on May 16. The Gala itself will take place on June 12 at the Kennedy Center.